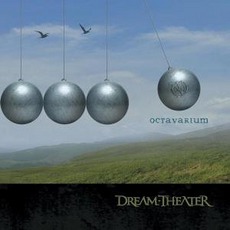 Tracks
People who bought this release also bought
This album is very much a mixed bag for me. In contrast to an album like Metropolis Pt. II, or even the more recent Distance over Time, which is consistently good, Octavarium has some pretty weak tracks that just don't stick with me in any way. Your opinion may be different, but for me, songs like 'The Root of All Evil', 'The Answer Lies Within,' 'I Walk Beside You', and 'Never Enough' just aren't that good--dare I say, forgettable even? They have their moments, like any Dream Theater song, but on the whole they're meandering and repetitive, with unoriginal riffs. 'These Walls', 'Panic Attack', and 'Sacraficed Sons', are quite good, but nothing remotely amazing to me.

But what about the last track--the 24-minute title track? In fact, this is the song that saves the album. If we removed Octavarium and replaced it with one or two tracks similar in quality to the previous ones, this album would get only 2 or 3 stars from me. But here, I give it 4. Why? Because the title track is simply a masterpiece, perhaps one of the best, most creative pieces of music Dream Theater, or any band, has EVER produced. It's amazing. It's epic. Awesome lyrics, diverse and rich sounds and composition that show Dream Theater's prog influences, and as usual, great playing. This epic opens with spacey, eerie sounds, then gradually builds energy all the way to its climax. Along the way, we get some great singing, tasty basslines, and a totally awesome synth solo by Jordan Rudess, to name a few. Every second of this song is going somewhere--it's a masterpiece, plain and simple.

A masterpiece indeed. But it cannot make up for the fact that over half the album it's featured on is, well... filler. So I totally recommend that you buy this album for the title track alone, and I think you should listen to the other tracks with an open mind as well, because you just might end up loving some of them. And yes, the concept and the way the album links together are really cool. But personally, I cannot give this album five stars considering the amount deeply mediocre music on it, in my opinion. Your opinion may be different-- Enjoy!
This is by far one of Dream Theater's best albums and one of the first two I heard that made me a die hard fan of their music. This album and all of it's subtle complexities really exemplify the different sounds and styles Dream Theater pulls from, showing of their technical skills, compositional fortitude, and their overall musical knowledge while still creating some great music that the average metal-head can appreciate. Octavarium is a perfect blend of Dream Theaters lighter more progressive-rock side heard in their earlier albums such as Awake with their heavier more progressive-metal sound that shined through on their latest album, Black Clouds and Silver Linings. With this perfect mix, a combination of simple songs and epics -most notably Octavarium- and the addition of a concept to back the album, Octavarium becomes an album that any Dream Theater, Progressive rock or metal, and even some Pink Floyde or King Crimson fans will love. While each song is notable in it's own, the title track, Octavarium, is truly the song that separates this album and Dream Theater from other Progressive-metal bands. This 23 min long song deals with the concept of everything being tied to everything else and life in general being one big circle. Not only through their lyrics, but in it's composition this idea rings through. Musical references from each of their previous songs on the album Octavarium are heard along with lyrical references of bands that heavily influenced Dream Theater. Wikipedia has a very interesting in depth look on the complexities of this song that I highly recommend investigating on. This song, this album, and this band is unmistakably one album that any progressive music listener needs to explore.