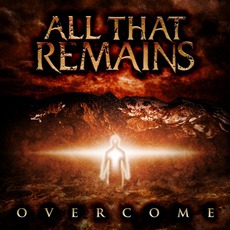 Tracks
People who bought this release also bought
I feel obligated to say that I'm not a huge metalcore fan. Back in high school I was listening to more traditional heavy metal and I never got interested in bands like All That Remains, Shadows Fall, Killswitch Engage, etc... Recently one of my buddies (who was listening to this stuff a few years back when it first started) introduced me to some of the genre highlights. Now I listen to a decent amount of metalcore and this is the album that changed my mind.

Although the lyrics deal mostly with personal issues/relationships (one of the main reasons I find most pop music to be boring) All That Remains show that these more conventional lyrics can work with fast, heavy, and technical guitars. The vocals range from growly and hard-rockish to clean in some passages though the vocalist doesn't go to extreme highs or lows; this makes the lyrics easy to understand compared to many other metal bands'. For these reasons Overcome is a good album to have in the car if you enjoy singing along. The generic "overcoming adversity" lyrics are also good if you need something to keep you motivated while exercising.

The riffs on this album are interesting compared to the more simple guitar work of other bands that All That Remains gets compared to (typically bands that I imagine are proud sponsors of Monster Energy Drinks or the WWE); lots of string skipping and classic pedal-note riffs work well with the heavy distorted guitar tone (nothing crazy, but very satisfying for something that might actually be heard on the radio.) There are a few impressive solos and complicated passages so if you are a guitar-head like me you can get some enjoyment out of having some more interesting "radio friendly" metal that other non-metalheads might not mind.

If you enjoy more complex metal but need some easier listening from time to time Overcome is a great record to have on-hand. It probably won't change your life but it may change your opinion on metalcore. Check out Two Weeks and Forever in Your Hands if you aren't convinced.