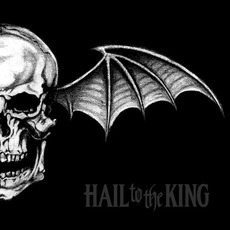 Tracks
Also by Avenged Sevenfold
People who bought this release also bought
"Hail to the King" is the sixth studio album by Avenged Sevenfold (Comprised of M. Shadows [Matthew Sanders] on vocals, Zacky Vengeance [Zachary Baker] on rhythm guitar, Synyster Gates [Brian Haner] on lead guitar, Johnny Christ [Jonathan Seward] on bass, and Arin Ilejay on drums) and was released on August 23, 2013. The album reached number 1 on the Billboard 200 and UK Albums Chart. Three singles were released which included "Hail to the King", "Shepherd of Fire", and "This Means War" in that order. Avenged Sevenfold brought multiple additional musicians on vocals, violin, trumpet, etc.
AX7 definitely sounds a little different but they definitely did not "sell out". They just changed from complicated metal to riff-oriented groove metal. I my eyes I compare this a little to Metallica's "Black Album", but they still remained decently heavy. Avenged Sevenfold is still at the top of rock right now along with Shinedown. Key tracks include "Shepherd of Fire", "Hail to the King", "This Means War" (which does sound very similar to the guitar riff in "Sad But True" by Metallica), "Requiem", "Crimson Day" (coincidence that "City of Evil" and "Nightmare" both also have a track 6 ballad, "Seize the Day" and "So Far Away"), and "Heretic". Honorable mentions include "Coming Home".
Over the past years i've listen to many bands and I come across avenged and started to listen to them and found there music to be very great. they have changed there music style many times and have been able to keep there music sounding good and have not sold out by changeing there music so much that they sound different then what made them. I would tell anyone to by there music, there are one of the better bands out there.
Over the years Avenged has changed their brand of rock. They started out with a metalcore sound with their first two releases, they transitioned to metal with City Of Evil, and then more of a contemporary hard rock sound with their self titled album and Nightmare. With this album you see them going with more of a groove based, blues rock sound. M. Shadows is actually quoted as saying that Hail To The King would sound more like Black Sabbath and Led Zeppelin. That's probably why I had to listen to some of these tracks a few times. The tempo on Hail To The King isn't as fast paced as previous releases, but after a couple of listens to various tracks you'll find that this album is right at home in the Avenged canon and superior to any other rock that is being released. The only tracks that initially jumped out at me were This Means War and Requiem. This Means War has been compared to Sad But True by Metallica and that's not a bad thing. It has a similar guitar riff and may pay homage, but it is anything but a ripoff. To me the standout on this album is Requiem. It starts of with several people chanting in Latin in harmony before a mix of some heavy guitar work and succinct drumming is abruptly introduced. From there some classical instruments are seamlessly blended in to give it a dark and powerful sound that is completely unique to anything Avenged or anyone else has done. Other tracks that I highly recommend are Shepherd Of Fire, Hail To The King, Heretic, and Planets. Overall, Hail To The King may not be the classic that City Of Evil is from start to finish because ballads like Coming Home and Acid Rain fall short. However, taken as a whole, this album delivers the excellent brand of hard rock that we've come to expect from Avenged and I would give it six starts in comparison to any other rock that's coming out today.