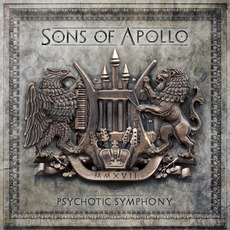 Tracks
People who bought this release also bought
Strong debut album by progresive rock/metal supergroup composed of very well established musicians.
Drums: Mike Portnoy (Dream Theater, Neal Morse, Transatlantic)
Guitar: Ron Thal (Guns N Roses)
Bass: Billy Sheehan (Mr. Big, David Lee Roth, Steve Vai)
Keyboards: Derek Sherinian (Kiss, Alice Cooper, Dream Theater)
Vocals: Jeff Soto (W.E.T., Yngwie Malmsteen, Journey)

All have plenty of studio and concert experience, and together have blended together into a strong and tight band. Album opens with the longest song "God Of The Sun". Right from the start you hear the classic Sherinian keyboards sound, reminiscent of his days with Dream Theater. The song gains momentum and becomes a metal prog song. Intricate technical prog passages are the highlight.

"Coming Home" is another prog metal tune but with a catchier melody and easier to digest. Probably their most accesable radio tune and the one most people will like.

"Signs Of The Time" is very drum oriented, syncopated time signatures, with bass playing precision.

"Labyrinth" another song with odd time signatures but with melodic vocal parts. Very technical also.

"Alive" is the slowest tempo song, but still with a heavy riff and sound.

Psychotic Symphony closes with "Opus Maximus" another strong song but short of being an opus. Lots of prog in this one where all musicians shine in their performance showing off their different musical style abilities.

Strong production and the mixng is top notch. One of the heavier prog metal albums of the year that will be remembered. It takes a few listens to appreciate the technical aspects of the songs. Watching them live must be interesting to see how they play these songs.

Highly recomended for prog metal fans.