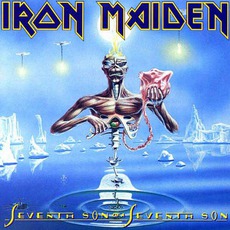 Tracks
People who bought this release also bought
After changing their formula up a bit with 1986's 'Somewhere in Time', Iron Maiden continued their foray into more experimental grounds with 'Seventh Son of a Seventh Son'. This was their first straight-up concept album, for its lyrics tell of the clairvoyance bestowed upon the seventh son born to a man who is himself a seventh son, a popular myth from folklore in many cultures. As such, this is one of Maiden's best efforts lyrically, weaving a loose but discernible storyline throughout the album. The music itself not only continues to incorporates more complex riffs and harmonies, but keyboards are used for the first time in addition to the guitar synthesizers from the previous album.

A brief, keyboard-ladden intro gives way to "Moonchild", one of Maiden's most vicious album openers. "Infinite Dreams" is one of their most underrated epics, containing great lyrics and one of their best dual guitar harmonies from Dave Murray and Adrian Smith. (A live version of this song from the subsequent 'Maiden England' live video was released as a single.) "Can I Play with Madness" and "The Evil That Men Do" were the first two singles from the album, and they both retain their rightful place as some of the best-known Maiden songs. Both very catchy, "Can I Play with Madness" in particular may be Iron Maiden's most commercially-viable song from a musical standpoint. The title track is one of Maiden's most complex compositions to date. At the time, it was also their second longest song, clocking in at just under ten minutes. Utilizing obscure time signatures, a spoken word section, and synthesized choirs, it is incredibly progressive and pretty much sums up the entire album in one song. "The Prophecy" is easily the weakest track on the album; comparatively bland musically, the lyrics here are also slightly more cliched. The third single "The Clairvoyant" returns to the album's high standards, featuring a quintessential galloping chorus. "Only the Good Die Young" is easily among Maiden's most criminally underrated tracks. Featuring some of Bruce Dickinson's most philosophical lyrics, a brief bass solo courtesy of Steve Harris, and the same intro used to introduce the album as an outro, it is by far one of their best album closers.

Unfortunately, this would prove to be Iron Maiden's last worthwhile album until the turn of the century and arguably their last truly great album overall. Nevertheless, they closed their nearly decade-long winning streak with one of their best albums ever. It may not be their most typical album, but it is necessary listening for Maiden fans and fans of rock and metal with progressive leanings.