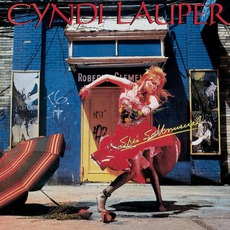 Tracks
People who bought this release also bought
Cyndi Lauper's debut album made a huge splash on it's arrival. Girls Just Wanna Have Fun was, of course, a big hit... Many may remember the music video featuring wrestling icon Captain Lou Albano as her father, unable to control his rebellious daughter. This led to what was known as the Rock 'N' Wrestling connection, which led to Lauper being featured in wrestling storylines, and even a cartoon. But beyond all that, this song really captures her spirit: fun, energetic, different.

This is further evidenced by the second hit, She Bop. This was a thinly veiled reference to masturbation, but in the mid-80's, Lauper pulled it off, some people getting the joke, others just going along with nonsense lyrics. The tone is again silly, fun... Something empowering to girls at the time.

But Lauper prices she could be serious, too. All Through the Night was a great rock ballad, with a nice build to a synth piece in the bridge. This whole album was very well produced. Time After Time was another big hit from this album for Lauper, this one a mournful sort of number, showing she could run the full range of emotions without batting an eye.

These were the big four singles from the album, but the whole thing works well together. The bonus tracks on this version are love tracks, including two versions of Money Changes Everything for some reason! I would have swapped one for a live version of Girls Just Wanna Have Fun, but Lauper was never known to do the expected thing, so it kind of fits! This is a historic album, really opening the site for more women to have success as solo acts. Beyond the history, it is a fun album, easily Lauper's best. More than worth a listen.