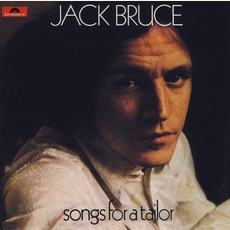 Tracks
People who bought this release also bought
Jack Bruce (RIP) will forever be remembered for his frenetic, lead bass lines in Cream, a band that alas lasted only a little over 2 years, 4 studio albums, and a couple of live albums. He was also a fabulous singer and songwriter (writing music with Pete Brown's lyrics). He penned and sang some of their biggest hits: "I Feel Free", "Sunshine of Your Love", "SWLABR", "White Room", "Politician".
However, he had an extensive solo career, as well, a few of the albums being out and out, underappreciated classics.
"Songs for a Taylor", his solo debut recorded shortly after Cream dispanded is the highlight or "Cream" of the crop. Featuring Chris Spedding and George Harrison, Bruce enlisted greatly talented guitarists, perfectly complementing the songs, but never trying to emulate or play in a similar style of Eric Clapton.
Opening with "Never Tell Your Mother She's Out of Tune" the record commences with a funk rock onslaught, with all the overlapping instruments, tracks layered on top of each other, complete with horns, and of course his overactive bass lines. The track perhaps best remembered from this set is "Theme from an Imaginary Western" that Mountain covered, but Jack Bruce's original is classic Americana from the late 60's with a feel reminiscent of The Band, a ballad with multiple keyboard tracks, that was originally harshly rejected by Eric Clapton during the Cream years as not being "Cream" enough. Jack Bruce wouldn't be pigeon holed and it is sad that Eric Clapton felt the need to limit the scope of their work! This track is the apex of an album full of winning cuts. "Ticket to Waterfalls" brings back the heavy bass and speed, but then slows down into more introspection. "Weird of Hermiston" starts out slow with a melancholy feel with lyrics of "I'm going to a wedding dressed in black" giving the feel of sadness and rebellion all at once, building into fast chorus that rocks, while at the same time keeping the mood of melancholy "Dreams are no longer of comfort" & "My heart is hung down with the saddest of rain that I'm feeling". Amazing, so satisfying, and that's just the first 4 tracks!! The high quality of material continues throughout, but those 4 cuts are hard to surpass! The album ending with "The Clearout" goes out with a bang, a song that could have easily fit in on "Wheels of Fire" or "Disraeli Gears" by Cream.
More great albums followed, especially "Harmony Row", another unabashed, underselling classic.
While Cream will always be what Jack Bruce is remembered for, not to mention revolutionizing the rock bass, along with the Who's John Entwistle, as an instrument musicians wanted to play, not just the instrument relogated to the weaker guitarist in a band,his solo work needs rediscovering by fans of late 60's rock and folk/rock. His voice and songwriting continued to be high quality many years post-Cream! Now, with his recent passing from liver disease, his solo career absolutely needs to get the reassessment of the rock audience at large to discover the gems that have been dismissed and passed over far too often. In my eyes, Jack Bruce's "Songs for a Taylor" is easily the equal of any Eric Clapton solo album, more consistent track by track, too. Don't miss out.