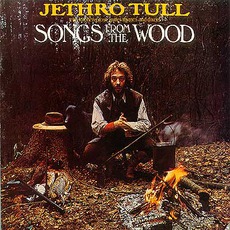 Songs From The Wood (Remastered)
Tracks
1.
Songs From the Wood
4:56
5.
Ring Out Solstice Bells
3:48
8.
Pibroch (Cap in Hand)
8:36
11.
Velvet Green (live)
5:54
People who bought this release also bought
Undoubtedly the epitome of Jethro Tull's career, this album is an immaculate blend of Progressive rock and Progressive Folk. Definitely one of the greatest achievements of prog ever to be recorded, not to mention one of my all-time favorite albums! The musicianship is professional, Ian Anderson's signature flute and mandolin weaving elegantly through the album, and Martin Barre's guitar growling in just the right places. Listening to this album is like walking through the woods in daytime, simply exhilarating.

We are pulled in from the beginning with the outstanding title track, which captures the theme of the album perfectly. It is followed by the sweet 'Jack In The Green', in which Ian Anderson plays every single instrument. 'Hunting Girl' features some sublime guitar work by Martin Barre. My favorite song on the album however, is none other than the gloriously erotic 'Velvet Green', and a great live performance is included in the remastered version. 'Pibroch' is another rocker, and includes some masterful flute-work by Ian Anderson, trying to imitate the sound of bagpipes. 'Fire At Midnight' is another one of my favorites, a perfect ending to this masterpiece. If you purchase the mastered version (and I hope you do), you obtain yet another great track ; 'Beltane', an anthem to the Pagan holiday. all in all, this album is surely not to be missed, it is a folk-rock masterpiece that influenced all kinds of folk and prog for decades to come.