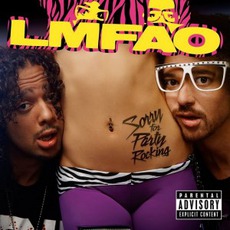 Sorry For Party Rocking
by LMFAO
Tracks
People who bought this release also bought
This is an album that is upbeat and really puts a smile on your face. Tunes such as 'Sexy and i know it' will undoubtedly get those feet tapping and hips shaking, along with other hits such as 'Champagne Showers' and 'Party Rock Anthem'. Certainly worth a purchase for the feel good factor!
LMFAO... They're,Ok. They have a few good songs on here but sadly,that's it. I have actually took the time to listen to there music but I didn't like that much of what I have heard. If I had to choose which songs were my favorite on this album, I actually would be able to without difficulty. Party rock anthem and Sexy and I know it are the only two songs I really like on this album. If they do make any more music in the future,I hope they get better. It's disappointing getting only a couple songs from a whole album.
I agree with the first reviewer, LMFAO is a fad that will soon be dead and gone, and I won't really mind that much. There are a few songs on here that I really like, such as Party Rock Anthem and Sorry for Party Rocking, but a lot of this album is just lame techno stuff that makes absolutely no sense. Sexy and I Know It is just downright annoying. This album has some catchy tracks that are great for just chilling to, but overall I think LMFAO is more of just a joke rather than actual music. Overall, I give it 3 out of 5 stars.
Okay, I tens to agree with my fellow reviewers when I say I dont get LMFAO. There are a fad that will pass ands on top of that I also an of the opinion that they lack talent and wikll soon pass.Trac 1 "Rock the beat 2" Heavy sounding base and difficult to undedrstand lyrics. Pardon me if I am not to kind during this review!Trac 2 "Sorry for partying rocking" okay guys , can anyone tell what is partying rocking? How much abuse of the english language do we have to endure people?Trac 3 "Partying rock anthem" Ofv all there songs this one comes clkosest to being liked by myself!At least there is something there for me to like.Trac 4 "Sexy and I know It" while I am all for songs with sexy in the title, this one left something to be desired for this music lover.Wheres the originality in terms of thw original writing?Trac 5 "Champagne Showers" What is this some sick refrerence I dont understand? LEFT ME COLD . Trac 8"Take it to the hole" Again how crude are we going to getr ?Where is the class of old????Trac 15" I"m in Miami Bitch" What am I a female dog???>?? OUT!ONE LOVE Red Rene
I don't like LMFAO. In fact, I think they're the worst thing to happen to music since Lady Gaga. They're a fad that will pass soon enough, but while LMFAO are the big new thing, you'll find yourself being forced to listen to their songs because 15-year old girls think its hilarious to put them on through their cellphone speakers on the bus.

The whole album is just one big list of terrible pop songs that all feature some random rapper or r&b artist or another. It's all horrible from beginning to end, with one noticeable exception. The very first song of the album, "Rock the Beat II" is basically a very average dubstep song coupled with some sort-of-but-not-really intro dialogue.

And then, you know, you've got "Party Rock Anthem", which has become a favourite at bad club parties. Seriously, if this album had just been a single with Party Rock Anthem on it, it'd have sold just as well. My point is, as you might have surmised, that you shouldn't buy this album, ever. It is terrible and an affront to good music.

Besides, if you're looking for good dubstep songs, go check out DMZ or Nero or someone similar. You know, actual dubstep artists that make serious and therefore quality dubstep. Don't buy it, please. By supporting artists like LMFAO, you are perpetuating the trend in music that Black Eyed Peas have laid out. The Beatles managed to stir even more craziness amongst young females than the crappy music that's making so much money now (I point to songs such as "Sexy And I Know It"), but at least they made great music. Don't buy this album.