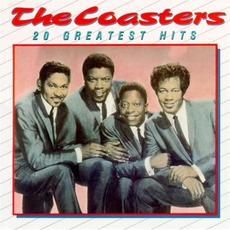 The Coasters 20 Greatest Hits (Deluxe Edition)
by The Coasters
Tracks
People who bought this release also bought
The Coasters were an important, unique part of rock and roll history. They part R&B, part Doo Wop, part rock, part comedy...all this together made them very entertaining. I should say makes, present tense, as the group still tours, obviously without the original members. But new members are brought in, taught to perform like the originals did, and put on an amazingly entertaining show. Once you start listening, you will realize just how many of their songs you already know.

A trademark of the band is telling humorous stories in their songs, something most bands shy away from. Their biggest success came from a run that started with Yakety Yak, their only number one single. The song depicts something every guy can relate to: a mother telling her son what to do, and warning him not to talk back. It has a classic Coasters tempo, very upbeat, bouncy and danceable. This was followed by Charlie Brown, which hit number two. This one told of the shenanigans of a ne'er do well boy, featuring his deep-voiced refrain of "Why is everybody always picking on me?"

This was followed by Along Came Jones, about the narrator watching television, and seeing a generic western type show where an evil villain tries to kill the damsel in distress, until along came Jones to save her. The fourth in the strung of hits was Poison Ivy, telling how poison ivy sneaks in and gets you, until you need an "ocean of calamine lotion". These songs are incredibly unique, funny, and also catchy. It's a rare act that can go as mainstream as The Coasters with what would otherwise be considered novelty songs, but they did it repeatedly. Their last real hit cane in 1971 with a cover of The Clovers Love Potion Number Nine, which was originally written for them.

The Coasters are one of those bands that you have heard hundreds of times without even realizing it. They have been covered countless times, their songs have been used in thousands of commercials, movies and TV shows, and they get tons of airplay on oldies radio stations. Their songs are filled with humor, often telling stories, but also set to some great music. Get this collection and you'll realize not only how well you know them, but how much you like them.