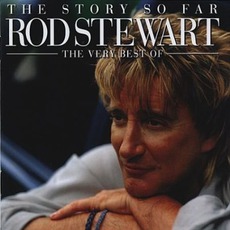 The Story So Far: The Very Best Of Rod Stewart
by Rod Stewart
Tracks
People who bought this release also bought
Rod Stewart was a truly great talent when he burst onto the scene in the late 60's/ early 70's. That being said, as he reached great commercial success, the quality of his work dropped significantly! For this compilation to be called "Very Best of Rod Stewart" is not only a disservice to this once great talent, it is very misleading for the music consumer. True, there are some big hits here: "Maggie May" and "You Wear It Well" from his classic solo period, but later hits such as "Do Ya Think I'm Sexy"- hit yes, quality- hardly. Does anyone really ever need to hear that song again? That song was the beginning of the style over substance that marked most of the rest of Rod Stewart's career. Plus the latter part of this compilation's "In My Life" and "Ruby Tuesday", not only weren't hits for him, they are complete embarrassments. Rod sounds like a little kid thinking he is a crooner, just awful! When did this gravelly voiced singer get the impression he had a little Frank Sinatra in him?! "Have I Told You Lately"? Really, Rod?!? Plus it features Rod's substandard reading of "Ooh La La", a great 70's Faces track that he stated publicly he hated at the time of its original release, but wanted to cash in by recording his own version after the Faces version became well known to a new generation, being featured in a car commercial! That is the point of this compilation: a cash in for Steward and record company, just like most, if not all of Stewart's career: '79 and beyond (All About The Money!)
The best parts of this comp: "Maggie May", "You Wear It Well" are culled from the tremendous early solo efforts "Every Picture Tells A Story" and "Never A Dull Moment" respectively, albums that should be heard in their entirety, less the listener miss out on amazing performances like the "Every Picture Tells A Story" title track, the heartfelt "Tomorrow Is Like A Long Time" or anything else from that magnificent record, or the powerful vocal of "I'd Rather Go Blind", to name just one from "Never A Dull Moment". Each of those two albums have not a single bad track between them. Ok, "The Killing Of Georgie" is a quality track, as well, but it doesn't fit with the rest of this collection. Plus, this compilation contains nothing from his fabulous album "Gasoline Alley", where he mixes rock with his one of a kind folk style. Yes, this compilation does contain the amazing rocker "Stay With Me' from the Faces, but one who really wants to hear Stewart's true talents should seek out the Faces full albums "A Nod Is As Good As A Wink", "Long Player", and "Ooh La La"- all true classics showcasing Stewart's real talent. listen to "Sweet Lady Mary" to get the true breadth of his talent. Not to mention you get the bonus of the fabulous Ronnie Lane tracks on those Faces albums.
For the beginning listener who if unsure about buying the entire albums listed above, either listen track by track to "Gasoline Alley", "Every Picture Tells A Story", "Never A Dull Moment", "A Nod Is As Good As A Wink", "Long Player", and "Ooh La La" and pick and choose your favorites, or if one feels the need to get an expansive compilation of his solo work, then seek out "Reason To Believe: the Mercury Recordings" for TRULY the best of Rod Stewart's solo work and buy "Nod Is As Good As A Wink" by the Faces. Either way, I guarantee you will be far more pleased with those than with this collection.
In addition, if these get your interest up from hearing that Rod really did have talent, also check out his early work by hearing the scorching "Truth" by the original Jeff Beck Group with Rod on vocals, Beck on guitar, Ron Wood on bass, and sometimes the incomparable Keith Moon on drums! Then the listener will be treated to the absolute "very best" of Rod Stewart. Please, please, avoid this compilation, it sullies the reputation of a true talent, focusing on his career as a money hungry sell out, instead of giving a large selection of true quality!
Rod Stewart has been around since the late 60's when he was with a group called "Faces". I personally liked him much better as a solo artist. This album truly has his best hits. If even has the track "All For Love" which Rod sings with Bryan Adams and Sting. That song was featured in the movie The Three Musketeers. I also used this song at my wedding 8 years ago. However, there's much more to this album with Rod's very distinctive voice. Worth a listen!!