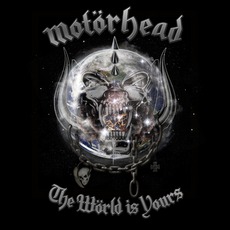 Tracks
People who bought this release also bought
The legendary rock'n'roll volume Motörhead is presented not only proudly on her new album "The Wörld Is Yours", but them with this release also at the same time her label "Motörhead Music" founded anew. With services EMI Music as a partner the album is expelled worldwide. The album 20th in the meantime in 35 years of tape history is a Homage to the rock'n'roll and an impressive hard rock work.

All songs were written about Lemmy Kilmister, Philip Campbell and Mikkey Dee, were taken up in Los Angeles and Wales and were produced once more by Cameron Webb. "The Wörld Is Yours" reminds everybody of the fact that one should never stop to ask, to criticise and to question things. Ten songs which touch the soul. With the uncontrollable strength of the trio one finds on "The Wörld Is Yours".

The album was taken up in the spring of this year under adverse circumstances. Phil Campbell's father was dying and on account of this situation Phil felt understandable-wise obliged to be so near as possible with his father. Thus a studio was rented in Wales and Phil has played in the biggest part of his admissions there, while Mikkey and Lemmy have taken up her part in Los Angeles. Such a well-functioning and confirmed team has also taken this hurdle with bravado and publishes a triumphant album to her 35-year-old Bandjubliäum with "The Wörld Is Yours" and they prove once again: Motörhead is one biggest, most loudly and the coolest tape which there is!