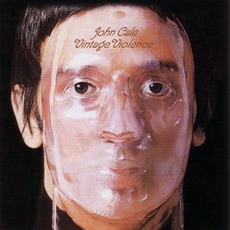 Tracks
People who bought this release also bought
While this album doesn't have the aclaim of Fear, Paris 1919, or Music For A New Society, Vintage Violence is a very solid, consistent album. While it doesn't have the aggression of the best Fear tracks or the grandeur of Paris 1919, and yes, the title is somewhat ironic, this is an album not to be missed.
The arrangements on this album are very thick, with new parts that revealed themselves with each subsequent listen, especially with quality headphones. Many songs feature guitar, bass, piano, pedal steel (sometimes multiple pedal steel or pianos, etc), viola, drums, organ, and more. Those complex arrangements, while not containing orchestrations, like Paris 1919, are just delightful.
With so many instruments winding in and out of the mix on tracks like "Please", "Charlemagne" and, a personal favorite, "Gideon's Bible", you might think these tracks to be lugubrious or unwieldy, but instead the entire album is chalk full of super catchy, dare I say, almost pop songs. Any number of cuts on this album could have been radio songs had CBS actually given this album the promotion it deserved. Particularly: "Gideon's", "Hello There", "Big White Cloud", " Adelaide", and even the Garland Jeffreys cover: "Fairweather Friend", that closes the album, all pack a powerful, yet catchy pop punch that will stick in your head after only a couple of listens. "Bring It On Up" has a great rollicking barroom piano style that counters some of the more complicated arrangements. The next to last track on the album, the outstanding "Ghost Story" packs the haunting, nightmarish style that became Cale's signature, which will please those who know Cale only by his abrasive style. But, even if only that track predicts "Guts", "Gun" or his harrowing version of "Heartbreak Hotel", this album is full of great songs that only grow and grow with each listen. Finally, Cale's voice, heard very rarely on the first 2 Velvet Underground albums, has a very dark, resonant, baritone style, which makes one wonder why the Velvet's had Lou Reed's Dylan style voice as lead singer. Even with these big arrangements, Cale's outstanding vocals never get lost in the mix. Its power is unstoppable! While I do tend to skip the simplistic "Cleo", every other track from the original record holds up really well, even nearly 50 years later. Vintage Violence, while not violent, while not containing any of his best known cuts, is possibly his most consistent work and well worth a listen or 40.