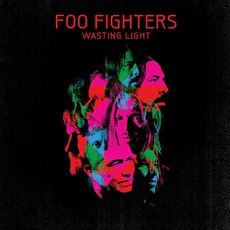 Tracks
People who bought this release also bought
One of the best Foo Fighters album ever recorded! Almost all of the songs are rockin'! Would definitely recommend to all people who love great musicians with melodic lyrics as well.
The Foo Fighters continue to be able to modify their sound as they continue to turn out album after album. From the opening riff of "Burning Bridge," you know that you are in store for a rocking album. You also will fell need to turn up the volume on "Rope."

There was a great documentary produced with the release of the album that captured the behind the scene moments of creating the album- very informative and it makes you respect and enjoy the Foo's even more. This is a great album and I would highly suggest it.
An Album produced in the lead singer's (Dave Growl) basement. This gave them the chance to really do what they wanted to and has led to some really great music being produced!
Great album.
Dave Grohl truly is special: after Nirvana acted as the sole protector and reinvigorator of the Grunge genre, the band members were forced to go their own ways after the untimely death of Kurt Cobain. The former Nirvana drummer hasn't become any less succesful for it, though, with his Foo Fighters project. 6 albums that were all met with great critical acclaim and a huge and still expanding fanbase prove as much, and the Foos are far from done.

They've further consolidated their position as the most recognizable rock band in the world with "Wasting Light", an album that looks to expose the slightly softer side of their sound range (with the exception of "White Limo", which is as grungy as it gets) and the result is what can arguably be called the best Foo Fighters record yet. Bridge Burning will go down as one of the best openers of the year, Rope and Dear Rosemary are just quaking with the great guitar riffs and excellent vocals, Arlandria is my personal highlight of the album (I'd even go as far as to say it's my favourite song ever made by them) and Walk is a fantastic way to finish off the 11-track delight.

Wasting Light is a fantastic follow-up to the Foos' work thus far. The only thing that could possibly be held against it as that it goes to show just how far the Foo Fighters have moved away from Grohl's grunge roots, which were still overtly visible way back when he made his first "Foo Fighters" record of the same name all by himself. Other than that, it's one of the best albums of the year and one that shouldn't be missed.
The Foo Fighters are an extremely talented and well-known band, which means fans have very high standards. This album is far from a disappointment, though. Recorded completely on analog tape, it tries for more of a "garage" feel, and while the sound is still smooth, it does achieve that to an extent.
"Bridge Burning" and "Rope" start the album out on a fantastic foot. The heavy guitar works with the garage feel as well as Dave Grohl's powerful vocals. "White Limo" sticks out on this album because it's so much choppier and different than/from the other tracks. It's fantastic, however. "Walk" is probably one of the best tracks produced by the Foo Fighters, and everyone should give it a listen. It's a powerful way to end an album of extremely strong songs.