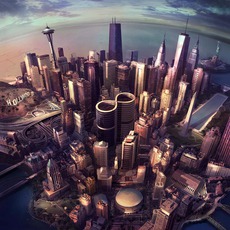 Tracks
People who bought this release also bought
While this is not the foo fighters greatest album, it is still great in the music world. The process the band had in creating this album is interesting and i recommend the sonic highways documentary to learn about it. Something from nothing and congregation are phenomenal tracks. The rest of the album suffices for the foo fighters, but don't expect the rest to stand out as well as those 2. That's why they were the radio singles.
Sonic Highways isn't the best album in the world, but it's still a good album. There's just something about the music that Dave Grohl creates. It's very good, and it's rock. I can't tell you how many times I'm flipping through the radio stations just to be stopped by a rock song that catches my attention and has me bobbing my head back and forth, just to find out it's a Dave Grohl song. Not every Foo Fighters song is a #1, but most songs on any Foo Fighters album are easily recognizable because of their popularity. Overall this is a good album. Again, it's not a great album, but it's still a good listen. I'd recommend it!
This was less of an album and more of a project for Dave Grohl. The idea was that each song be recorded in a different city, incorporating the vibe of the city into each song. The process was recorded for an HBO series. The result is an album that is a bit uneven in tone... There is no flow from one sing to the next. But that wasn't the point of this project, this was meant to be more of a documentary than an album. So the assessment should come from the individual songs.

Each song not only emanated from a different city, they each has a different guest musician. Something From Nothing was recorded in Chicago, and guested Rick Nielsen. This was released as the lead single from the album. Nielsen was the founder of Cheap Trick; a generation ago, but familiar with hard rock. This is a decent track, maybe it's the Chicago style, but it feels like they are holding back a bit on this one.

The Feast And The Famine was recorded in Virginia, and was guested by members of the band Scream. Congregation was fine in Nashville, and featured Zac Brown. A touch of country in hard rock? Well, a hint of southern rock.

What Did I Do?/God As My Witness came from Austin, Texas, and features Gary Clark, Jr., a blues guitarist from Texas. Clark is a great talent, and is given some time to show his stuff in this song.

Outside features Eagles guitarist Joe Walsh, a legendary Californian band. Walsh is sometimes overlooked, as Don Henley and Glenn Frey have often commanded more attention for their one time feud and their solo careers, but Walsh's guitars were often the key to the band's success, and he had a substantial solo career of his own. So it's good to see him get some shine on this track.

In The Clear attend from New Orleans, and features Preservation Hall Jazz Band. It has a bit of Cajun flavor to it, and a bit of Foo, but both are diluted. Like much of this album, it's a song. It's OK. It really doesn't feel like a Foo Fighters song, which makes it tough to judge, because it's not really supposed to. This is the point in the album where it finally stuck for me that this isn't the next Foo Fighters album, this is a project for Dave Grohl, a way to play with some of his friends and maybe some of his heroes. And that is fine; that becomes my statement for the whole album, it is fine. It's not a balls-to-the-walls rocker, it's not the next step for the band, it's a documentary. And as such it's fine.

The last two tracks are Subterranean from Seattle with Cash Cab For Cutie's Been Gibbard, and I Am A River from New York with 70-year-old Tony Visconti and Kristeen Young, both of whom have worked with David Bowie amongst many other artists. At the end of the day, there is s little so something for everyone here, but I'm not sure that a little bit is enough. These songs are solid album tracks, but nothing here really stands out, nothing makes me want to listen again. Perhaps it's the high expectations the band has set that makes me feel somewhat disappointed, but taking away the Foo Fighters element, maybe looking at this as more of a historical piece, a sort of musical time capsule, maybe that shines a better light on the piece. To me, it's like a museum; great for a visit, but not the place I want to spend every weekend.