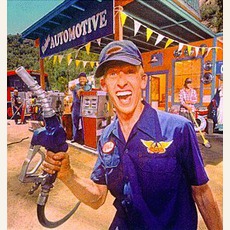 A Little South Of Sanity [Explicit]
by Aerosmith
Tracks
People who bought this release also bought
It's easy to forget how talented the band is when you think of Aerosmith. They seem to have been around since the dawn of rock and roll, and yet your first thoughts probably go to Steven Tyler and his antics. The band has tons of top forty hits, but also has done some great blues pieces. This band is America's answer to The Rolling Stones in many ways. Both have lead singers with legendary lips, both have a core that has been together for decades, both have had tumultuous internal relationships, and both are killer live acts. They each have been influenced by the Blues, and despite the antics and mayhem, both will reach into their bag of tricks and pull out some great musicianship and throw some wicked blues into their act.

It might seem tough to sell an audio-only Aerosmith concert, since Tyler is such a visual presence onstage. But on the other hand, a set like this will filter out the distractions and show just what the group can do as a band. This comes 'later' in their career, when they have everything nailed down to the point where they could phone it in and get rave reviews. But it's clear they care about their music. They parade out hit after hit, but none of them have that overdone feel, as if they are winking to the audience and saying, "Hey, remember this?" as they turn on autopilot and ramble through the tunes. The guitars are lively and inventive, the drums are smashing...the biggest weakness might even be Tyler's vocals, which at times feel almost like self-parody. Sometimes it feels like he knows his own trademarked sound, and he really hams it up. This is the one part where visuals might have improved the set, as Tyler is bigger than just the sound of his voice.

But this is really a small complaint, as he still sounds fantastic. The song selection is meant to be a crowd-pleaser; a big focus on their late-80's/early 90's "comeback" time. Most of their big hits are here, and they sound pretty much like you expect them to sound. They don't stray much on tracks like "Cryin'", "Amazing", "Love In An Elevator"; they give you what you want, with a little more edge than one might expect from a band of their years.

They really sound best on some of their older tracks, such as "Dream On" and "Sweet Emotion". These are classics, but they feel less like hits of the 70's here, more like a modern hit, thanks to the the bite that the band adds. Other tracks like "Monkey On My Back" and "Mama Kin" feel closer to the Blues than their big pop hits do. Check out "Last Child", this is a killer rendition that Perry seems to have a lot of fun with.

It would have been nice to have some of the less popular tracks explored here, but it's really tough to argue with the setlist. A band with so many hits is expected to march them all out. If you are looking for an alternative to their Greatest Hits collections, this is a great set. If you simply want a live take on their big hits, again, great set. If you want an exploration of their more Blues-y side, there are moments here, but you might not get what you are looking for on this particular set. However, if you just want to hear some awesome rock music, this IS a great set. Aerosmith are legends, and this is a worthy, if maybe incomplete, chronicle of their talent.