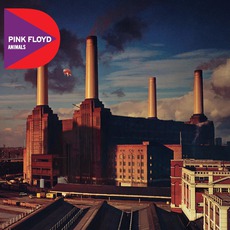 Tracks
People who bought this release also bought
Animals for some aspect is the best album of Pink Floyd and is the first tangible sign of internal evolution of the band that lead to the break-up and the years of silence before the resurrection signed by David Gilmour.

For the band it is the third concept album of the seventies: it opens and closes with Pigs On The Wing, a delicate acoustic ballad that frames the rest of the songs in a dreamy and relaxed atmosphere, in contrast with the central and musically most important part of the album. The second song, Dogs, which opens the treasure chest of the violent controversy of Waters against the society, the dogs are social climbers, and the words of Waters are full of a sincere and profound disgust. Please note a couple of things: Gilmour's guitar work reaches one of its best on the track Dogs and then the fact that this song had been circulating for a couple of years under the name of You Gotta Be Crazy ... if you are in possession of some of the bootleg 1975 easy that you can listen to.

After there is Pigs (Three Different Ones), Sheep and (also like Dogs ran a couple of years under the name of Raving And Drooling note): the first is the controversy against those who get rich on the backs of others, and in fact against the politicians, while the second is against the mass of those who become duped and follows the "boss" without understanding and even ending up with being victims, however, so that in the final verses are back in force Orwellian echoes in the name of a kind of " all animals are equal but some are more equal than others ." Those are also the last two songs of Pink Floyd where Richard Wright is directly involved in the composition, from this point and on, his role will be more and more marginal.

Animals , the darkest album of Pink Floyd. Another masterpiece. Distance from the atmosphere of Dark Side or Wish You Were Here, perhaps an anticipation of works more particular such as The Wall and The Final Cut.

Highly recommended.