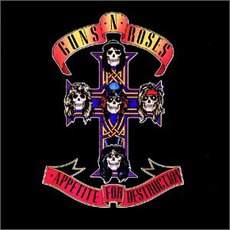 Tracks
People who bought this release also bought
"Appetite for Destruction" is the debut album from GNR that put them on the map. It is easily one of the best rock albums of the 80s and can make a case for all time. It came out at the height of hair metal which gave it huge commercial success as it has sold over 30 million copies worldwide. It produced iconic rock megahits like "Welcome to the Jungle", and "Sweet Child O'Mine". Key tracks include "Welcome to the Jungle", "Nightrain", "Mr. Brownstone", "Paradise City", "Sweet Child O'Mine",
This is the record that started it all off for Guns N Roses. This was the first album with the original lineup of Axl Rose and company from the Los Angeles scene. The opening track, "Welcome to the jungle" is considered a classic, and rightfully so. It's a hard hitting sound that was unique and will never be duplicated. This is an album where you can hear the signature styles of GNR, from the vocals of Axl Rose to the drumming of Steven Adler to the guitar riffs that could only come from Slash. If you are into hard rock music and have never checked out this album for yourself, I would highly recommend it as one of the greatest hard rock albums of all time.
Without a doubt one of the best hard rock albums of all time. There simply are not enough superlatives to describe this album. But lets try.

From the opening notes of Welcome to the Jungle, through the colossal Night Train, the seedy Mr Brownstone, the dirty My Michelle, all the way to the end of Rocket Queen, this album is an absolute must for those who want their rock raw, uncensored and honest. This has it all.

There are so many wicked riffs and bass lines here... the lyrics are Axl's best work and describe a lifestyle in a way which gets away with promoting sex, drugs and rock n' roll without being offensive... ish...

Funny enough, the singles (Jungle, Paradice City, Child) are the weakest tracks. But they are STILL killer tracks, as is the quality of this album.

This is my favorite album. It is a good combination of the harder side of classic rock and the softer side of metal. The songs have depth which make you enjoy the music that much more. The album has a good combination of songs and is still the highest selling debut album of all time.