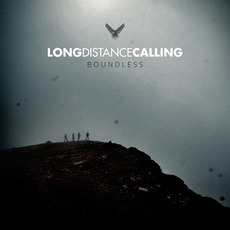 Tracks
Also by Long Distance Calling
People who bought this release also bought
Latest release (2018) by German instrumental group which is difficult to categorize. A mixture of Ambient and Metal music, brings Ambient Metal Fusion? Shades of OSI, Porcupine Tree and Metallica at times. "Boundless" is their best effort to date. Long Distance Calling have been around for over a decade and released several albums. These are very talented musicians who experiment with different sounds of heavy textures and dark tones. The song opener "Out There" is a great example of their musical capabilities. Big riffs with a great feel and nice melodies. One of the best songs on the album.
Next up is "Ascending". Another strong tune with a nice vibe.
"In The Clouds" sounds like an ambient dark tune from a movie. A very modern keyboard sound is joined by a killer riff that sounds from the 70's. Very well done.
"Like A River" has a cowboy or western style theme to it, with layers of keyboards and guitars.
"The Far Side" starts with a strong riff with layers of other instruments on the background. Also could be a in movie soundtrack.
The album closes with "Skydivers" with strong riffing, drums thumping to a strong bass line. All mixing to an ambient feel just to be broken to some ala Metallica riffs to give it a Thrash Metal feel (without the growls). The intense melodic solo with the ambient loop makes you want it to continue, but it slowly fades and ends with some splashes of keyboard whaling.

All songs are enjoyable and makes you want to listen to the album over and over again. Most songs take a while to develop into the theme, which is good. Highly recommended.