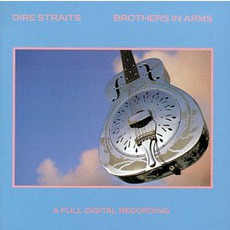 Tracks
People who bought this release also bought
Dire Straits was one of the biggest bands in the world, resulting largely from the release of this album. Guitarist/lead singer Mark Knopfler was responsible for most of it... he wrote all the songs, and constantly drove for better recording quality. As a result, this was one of the first albums ever recorded on digital tape. His striving for perfection didn't end there, he co-produced the album and is primarily responsible for the overall sound; from instrument selection and setup, to the mixing board, Knopfler was always in complete control.

And it paid off. "Brothers In Arms" is one of the best selling albums of all time, with over 30 million albums sold. It was number one worldwide for more than two months. It spawned three top ten hits, including the iconic "Money For Nothing", which was number one for three weeks, and won the 1985 Grammy for Best Rock Performance.

"Money For Nothing" is a song from the point of view of some movers, commenting on what they see on TV. It leads in with an almost ethereal keyboard note, highlighted by a falsetto of the phrase "I want my MTV", sung by Sting. The phrase, intended with some degree of irony in the song, would become a selling point for the network, almost a battle cry for the network to give to the impressionable youth of the time. The song was accompanied by a video that was a technical marvel at the time, showing computer animated movers watching Knopfler perform. The video was also the first played on MTV Europe. The album version of the song features an extended intro, and longer instrumental sections.

Also on the album is classic rock staple "Walk of Life". The Song features Knopfler's trademark guitar, and tells of a man playing some oldies and blues songs in the subway, trying to make money from passersby. The opening organ has become nearly as recognizable as "Money For Nothing".

A key theme of the album is a protest of war and violence, coming up in the popp-y "One World", but most noticeably in the somber "Brothers In Arms". The music video for this sing featured black and white charcoal drawings of war scenes, mixed with images of the band, a big contrast with high tech, upbeat "Money For Nothing". The album version here is also longer than the single. The single is said to be the first ever CD single.

Beyond the enormous his from this album, there is much to discover. "Your Latest Trick" prominently features a saxophone throughout; "The Man's Too Strong" builds to repeated percussion bursts. If you are one of the few people who does not yet have this album, it is most definitely worth a listen. It's more than a collection of hits, to those who truly love music, this is a work of art.