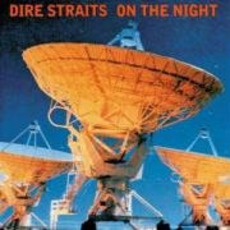 Tracks
People who bought this release also bought
Mark Knopfler is one of those musicians that is a perfectionist and a control freak. He's also a genius and a virtuoso level guitar player, so you know that whatever he does will be great. A live performance from Dire Straits is a group of master musicians giving the audience an experience.

In 1991, Knopfler and Bass player John Illsley, along with keyboardists Alan Clark and Guy Fletcher, got together for one more album and tour. The album could not compete with it's 9x platinum predecessor "Brothers in Arms", and though it sold well, it was nothing in comparison. It failed to produce any major hits, though a few of the songs did chart. The tour fared better, selling more than 7 million tickets. "On The Night" was released as a chronicle of the tour, primarily focusing on the previous two albums.

The album opens with "Calling Elvis", a rock song about an Elvis Presley fan who believes the King is still alive. It's a good rocker from "On Every Street", more of an album track than a single, but a strong introduction to the album. Next is "Walk Of Life", one of the biggest hits from "Brothers in Arms". They give a great performance; it's such a well-known song, the crowd is immediately into it, it's one of those songs that brings in the casual fan. It's a solid performance, Knopfler's country-influenced guitar picks through the song, giving it a more relaxed feel than many of the tightly-woven arrangements.

Two pre-"Brothers In Arms" tracks come back-to-back, first the classic "Romeo and Juliet". This one has been covered numerous times, perhaps most notably by the Indigo Girls, but Dire Straits still does it best. It's a love ballad, perhaps lyrically sappy at times, but musically very strong. Knopfler's guitar plucking is enhanced by the sexy saxophone that joins in; this is where the heavy rock fans take a bow to a softer love song. Next is "Private Investigations", which starts very soft and low, evoking an image of a seedy private investigator looking up someone. The tone changes for the second part, as Knopfler lets up the reins as much as he allows, and the band breaks into a sporadic burst of a jam; the low ending never really brings closure to the song, and this is intentional, Knopfler is controlling the audience in a different way with this song.

A real highlight of the album is "On Every Street". This is an updated version of "Private Investigations". The first half has a quiet, seeking tone. This all builds to an all-out jam. As much as any song on the album, the entire band has the chance to cut loose and just play, all together. The instrumental portion is the highlight of the album, and the group really makes it stand out from the also-excellent studio track.

Everyone is familiar with the opening riff of "Money For Nothing", and the tempo here is even faster than the studio version. This is perhaps not their most musically challenging song, but it was wildly popular, and a great choice for a show closer. The band just pours a great deal of energy into, getting everything they can from the crowd to get them ready for the true send-off, that being "Brothers In Arms". This anti-war song features some great soloing, and a consistent tone, letting the audience breathe after the previous song's burst of energy.

Live albums can be tricky; they are not for everyone. Some will only be happy with the song renditions they are familiar with, which usually means the studio release. Dire Straits stays generally pretty close to these arrangements, while giving just enough of a tempo or tonal change to make sure you know this is live. They successfully walk that fine line of too close to the original and too far from it to be recognized.