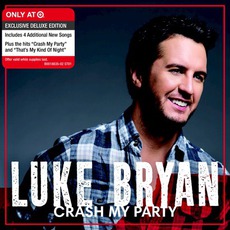 Tracks
People who bought this release also bought
I originally bought this CD for the track 'That's My Kind Of Night". But then I heard "Play It Again", and I was hooked. Country doesn't always sound sad, and these songs aren't that way at all. Luke Bryan has a little bit of a rocker in him and that is becoming the new sound of country music.
I love this song because it makes me think of my who passed away in june of 2013. This song just touches my heart and brings back a lot of great memories when I hear it.
The last review pretty much sums it up, but to be honest it still is probably one of the only country singers i like…Jason Aldean being the other…so yes if your looking for that type of country..this is your ticket.
If you're looking for some poppy country music this would be your ticket. This CD is pretty stereotypical. In many ways its seems he his following Jason Aldean's style lyrically. It has the suduce you in the country songs and also the "I drink and I'm cool" songs. Luke Bryan does have a nice voice and his talent on the guitar is unmistakable. However, it is nothing that hasn't been done and nothing that really stands out to me. So, is it worth it or not to buy? You will have to decide for yourself.