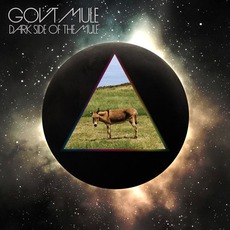 Dark Side Of The Mule (Deluxe Edition)
by Gov't Mule
Tracks
People who bought this release also bought
Gov't Mule began as a side project for Allman Brothers Band guitarist Warren Haynes and bassist Allen Woody. Woody has since moved on, but the Mule has been very prolific, releasing nine studio albums and several live albums since their inception in 1995. They play a style that is a mix of southern rock, jam, classic rock...and with this album, you can add a little bit of progressive rock. They play a lot of covers from bands that have influenced them, or just bands they like. This live set is about the most ambitious cover sets, a collection of Pink Floyd classics.

This was a live show from 2008, recorded in Boston on Halloween night. About half the show is Floyd covers, the rest their own material. They don't do all of "Dark Side of the Moon", buy they do a lot of it, along with well-loved tracks such as "Shine On, You Crazy Diamond" and "Wish You Were Here". Every cover is treated with reverence. They play as close to the original as you can possibly get, including the female backing vocalists associated with many Floyd songs, as well as other background sounds used by the group. The results are incredible.

Haynes, along with drummer Matt Abts, new bassist Jorgen Carlsson and keyboard/guitarist Danny Louis, are all master musicians. They are spot on with every note. Haynes' voice is not David Gilmour's, of course, but it has a certain charm and honesty to it. The audience knows what they are getting, and are barely noticeable during songs, save a singalong on a reprisal of the chorus in "Wish You Were Here".

The band's own work is seamlessly blended into the show. The first disc is all original material, with such Mule classics as "Bad Little Doggie" and "Monkey Hill". They close the show with a killer version of "Blind Man in the Dark" off of 1998's "Dose" album.

Gov't Mule is something of a jam band, with many of their releases being live shows, and making tuna of live festival appearances. They have the chops to hang with any rock band out there; their covers are amazing, they effortlessly match some of the best rock bands of all time practically note for note. Their own material is great, it's a throwback to the rock acts of the 70's, when everyone seemed to be doing blues rock. These days, there aren't a lot of others making blues rock of this quality. The Mule is a tough act for other bands to follow, but an easy one for fans to follow. They put out lots of material, and are very fan friendly. "Dark Side of the Mule" is the perfect entry point. If you like Pink Floyd, there is plenty here that you will love, Mule's own stuff is a bonus. If you like it, there is plenty more where that came from to explore. If not, you still have an awesome hour and a half of Floyd covers to listen to. More than worth your time.