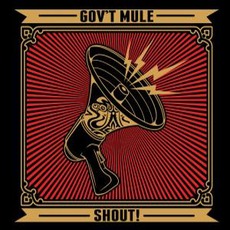 Tracks
People who bought this release also bought
Gov't Mule is the brainchild of Warren Haynes, a side project when not needed by the Allman Brothers Band. They are a southern blues/rock jam band, with a wealth of their own material, but also known for doing some great covers, most recently releasing a triple album that was half Pink Floyd covers. Shout is their tenth studio album, and shows that Haynes has the creativity and guts to do whatever he wants with this band, and always with amazing results. Backing him are Matt Abts on drums, Jorgan Carlsson on bass, and Danny Louis on just about everything...guitar, keyboard, trumpet, the guy is a one-man band, in a crew that is amazingly talented.

Shout is a double album, with a very unique and interesting concept. The first disc features eleven new Mule songs, performed by the band. The second disc is the same eleven songs, in a slightly different order, but with a different guest singer on each track, including many musical legends. A very unique idea, making covers of your own songs on the original album. This may have sounded ridiculous on paper, but in practice, they made something truly unique and interesting.

The first question you might ask is which version of the songs is better. Personally, I am fascinated by the guest versions, but in essence, these are eleven solid blues rock tracks. "World Boss", guested by Ben Harper, kicks off the second disc, it's got a good energy, and Harper bests Haynes. "Funny Little Tragedy" feels like it was written for Elvis Costello's voice. The other real standout is "When the World Gets Small", with Steve Winwood. Winwood is, of course, a blues rock founding father, coming up with the Spencer Davis Group and Blind Faith. His voice hasn't lost a thing, he's continued to grow his skills, his vocals are an instrument of their own.

Other guests include Dr. John, sounding great with that deep, rootsy blade voice on "Stoop So Low". And Toots Hibbert, a legendary Jamaican reggae artist, adds a different flavor on "Scared To Live".

Haynes manages to outshine a couple of his guests here. Dave Matthews is one, a guy who one would think would be perfect here, but he's just OK, which is a bit disappointing. The same goes for Jim James, his style just doesn't cut it in the material he's given. "Captured" sounds better with Haynes' strong presence.

Warren Haynes is in a creative zone, and in a position where he can do whatever he can think of. Gov't Mule is the perfect outlet, giving him three other versatile musicians to work off of, and his reputation is able to attract many legendary musicians to work with him. Haynes rewards them by giving them excellent material, and a really fun concept to work with. This is not a perfect album, but it's one to come back to. The songs are strong rock songs with deep roots in the blues. There just aren't a lot of acts around like this today, and even fewer with the guts to try something like Shout. If you are a fan of Mule, you will like this; if you are a fan of rock, or blues, or good music, this is definitely worth your time.