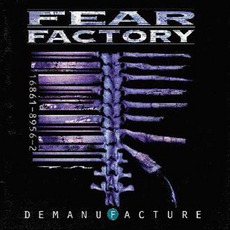 Tracks
People who bought this release also bought
Back before the likes of Rammstein has infused industrial and metal, Fear Factory were laying that path and laying it well. This album was way ahead of its time, and still stands the test of time today.

Demanufacture was THE album that landed FF firmly on the map, and was on of 1995's standout albums, along with Slaughter of the Soul (At The Gates), Once Upon A Cross (Deicide) & Astrocreep 2000 (White Zombie). Its production, musicianship and technical wizardy stood it apart from the rest.

Between Dino Cazerez (Guitar) and Raymond Herrera (Drums), these guys delivered a genuinely unique, heavy, fast, energetic album which would have perfectly sat as the soundtrack to The Terminator. The album was inspired and written about the very same subject matter - man against the machine. Tracks like Self Bias Resistor, New Breed and H-K (Hunter Killer) all tip the hat in the direction of Cameron's concept.

Opening 3 tracks - Demanufacture, the afore mentioned SBR and Zero Signal are a showcase in how to start an album. What stands out immediately are the drums - and specifically, the machine-like kick pedal work of Herrera. Synced up with furious guitar work from Cazerez, the delivers a sound and approach most hadn't heard before, and many would go on to copy. Burton's mix of harsh and clean vocals should please both camps, but truely his forte is screaming. His singing has never been all that.

Zero Signals' kick triplets will stay in your head for days and have you drumming your fingers till they bleed. Rhys Fulber, the band's synth master and live keyboardist, adds so much atmosphere. In Replica, the bands biggest ever single, things are a little more stripped down but that familiar drum / guitar sync and the guitar dischords are used perfectly to deliver a pounding track. One of metal's most easily recognised riffs, songs, soundtrack to 90's metal.

New Breed employs a more gabba-feel, almost a song off of one of their numerous remix albums. A great song, aggressive and full of effects and more wizardry from Fulber. The only dissapointment of the album comes next - a misplaces, pointless and (frankly) awful cover of Head of David's Dog Day Sunrise. I will never understand way they bothered.

This album has many greay riffs, and one of the best comes as the intro and main riff on Body Hammer. The metal-effect snare and ambient atmosphere is awesome - a mean, slow tempo track with massive groove and huge chorus.

Flashpoint feels a little missguided and the song feels like it should have maybe been dropped. Its not as strong in structure, riffs or delivery. Vocals are very sketchy in places too. Faith is redeemed, however, with H-K (Hunter Killer). The long police / news report intro again visits the whole dystopian / failed society feel and then in come the drums / guitar and synth and we are back with another killer track. Vocal delivery here is spot on here.

Pisschrist has the making of a great track but seems to fall short and almost feels like two tracks chucked together. The half-time clearn vocal piece at the end could be a great song on its own, without the heavy distortion on Bell's vocals.

A Therapy For Pain is, as with most final tracks on FF albums, a slow, layered, final-piece song. At close to 10 minutes, including the lengthy out-tro, this is one for fans but maybe not their greatest song ever.

A poor finish to what is, otherwise, a stunning album. The riffs are crushing, the drums and inspirational (and at the time, quite original) but the feel of the album is what wins here. Man Vs Machine. Ears Vs Metal.