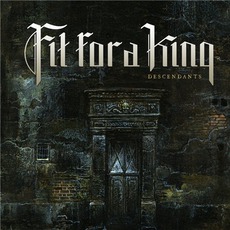 Tracks
People who bought this release also bought
This is a re-recording of FFAK's first album after they were signed to a label, and while I don't believe it was 100% necessary to remake the album (the original was just fine in my opinion), I understand why the band decided to.
These are the songs that got me into FFAK, and with good reason. These songs are so heavy its crazy. But FFAK never loses deep meanings and good lyrics in all the chaos of the crashing instruments. Some of the deeper meanings of these songs force you think a little bit, but others are fairly obvious.
"Messenger, Messenger" is the song that first introduced me to these guys, and what a great song to introduce you to the band. "Descendants" is another great song off the album, and it contains one of the best breakdowns you'll hear in metal music, but like I said, the meaning of the lyrics still shines through.
The features on this album add to how good it already is in my opinion. Jeremy Gray and Matty Mullins add their vocal abilities on 2 different tracks on the album. My favorite between the 2 is "The Architect", with guest vocals by Matty Mullins of Memphis May Fire. I don't know what it is, but his voice just goes so well in that song.
I'm also a big fan of the guitar riffing in "the Roots Within".
One of the more shocking songs on the album is "Transcend", for the reason that no one ever expects these kinds of bands to put out quality music containing all clean vocals, but FFAK proves those people wrong with a few minutes of peace in the chaos and heaviness of the other songs on the album.
Finally, I enjoy the song "Keep Me Alive" as well. This was added to re-recorded version, and I'm happy they added a new song to the album for several reasons, but mainly because it is so good, and it really allows you to see how the band has matured since their first release. The song discusses stress and inner demons, and the truth that we don't have to be victims to these things, that we can fight back, and have victory.

Great album, great buy. Make the purchase!