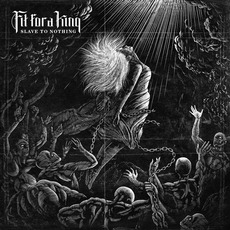 Tracks
People who bought this release also bought
FFAK just keeps getting better and better with each release. Slave To Nothing is a great album from these guys, and with this release they prove that they are one of the best bands in true metal today.
If you like heavy hitting and brutal metal, dimension shattering breakdowns, and some of the best screaming vocals you'll hear today, pick up this album.
What I like about these guys is that they see that there is an accepted way to do metal music, the way that all the other bands do it, and they take that go in the complete opposite direction, exploring new elements that really only works to add character and intensity to their music. The more casual metal fan may just see this as just another typical metal album, but when you listen to a lot of this kind of music, you ears become sensitive to subtleties in the music, and I can tell you, FFAK is not just your typical metal band. Do they have brutal screaming vocals meshed with epic cleans? Yes. Do they have jaw dropping breakdowns? Yes. Hardcore guitar chugging? Yes. But the way these guys do it is unlike other bands you'll hear. These guys truly are revolutionary in a genre that has become saturated with a lot of music that has no meaning and sounds all the same. Great buy, you wont regret it!