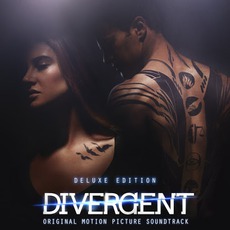 Divergent: Original Motion Picture Soundtrack (Deluxe Edition)
by
Various Artists
Tracks
1.
Find You (feat. Matthew Koma & Miriam Bryant)by

ZEDD
3:25
2.
Beating Heartby

Ellie Goulding
3:35
3.
Fight for You (feat. Chance the Rapper)by

Pia Mia
4:37
4.
Hanging On (I See MONSTAS remix)by

Ellie Goulding
4:06
5.
I Won't Let You Goby

Snow Patrol
4:09
6.
Run Boy Runby

Woodkid
3:34
7.
Backwardsby

Tame Impala & Kendrick Lamar
3:57
9.
In Distress (feat. Gesaffelstein)by

A$AP Rocky
3:11
10.
Lost and Found (ODESZA remix)by

Pretty Lights
4:38
11.
Strangerby

Skrillex
4:51
12.
Dream Machinesby

Big Deal
3:01
13.
Dead in the Waterby

Ellie Goulding
4:46
14.
I Love Youby

Woodkid
3:51
15.
Waiting Gameby

Banks
3:28
16.
My Bloodby

Ellie Goulding
3:54
People who bought this release also bought
I originally fell for the Banks song 'Waiting Game' on the Divergent: Original Motion Picture Soundtrack. Her voice is refreshing and intoxicating. The song itself is on the slower side, but hits you with a dark, almost synth-y edge. I was delighted to also see Ellie Goulding on here as well, with not one but FOUR awesome tracks! 'Hanging On' is upbeat, electronic, and infectious! There is definitely a wide range of music on this album, but not so much that if you don't like a lot of different genres, you'd be forced to cherry pick what you like. While I was thoroughly impressed with just about every single song on this album, some that stood out for me were: M83's "I Need You", and both of Woodkid's songs 'Run Boy Run' and 'I Love You'. I had never heard of Woodkid before, but am now convinced he will be one of my new favorites. His flawless musical compositions will leave you hungry for more, believe me!