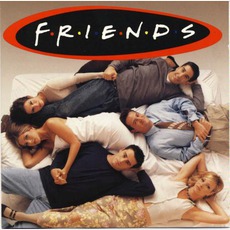 Friends
by

Various Artists
Tracks
People who bought this release also bought
Soundtracks for TV shows are generally cash grabs... Slap the name of the show on the cover, maybe throw in a cast picture, then get some random bands to give a song or two. The music doesn't matter, you're merchandizing the show. And I won't lie, this is not far from that. Aside from the theme song, no song makes me think of the show. But the collection of songs they did get is just great. They may have played for three seconds during a portion of the site at some point, I would be hard pressed to come up with any connection, but they did a great job of not just getting some great songs, but getting songs that actually feel like they somehow belong together.

Starting off is, of course, the theme song, "I'll Be There For You" by the Rembrandts. You know it if you have ever seen the show. It did some time on the charts, and is basically the bands only claim to fame.

Sprinkled through the album are little clips from the show, they are what really connect it to the show. They picked some really good ones, you generally don't have to know anything about the show to laugh at them.

Continuing with the pseudo-alt rock band theme are the Barenaked Ladies with "Shoebox"; it's an OK little song, not their best, but fits in. Next is Toad the Wet Sprocket with one of their best, "Good Intentions". This is a highly underrated song, with a great but of harmony in the chorus. Hootie and the Blowfish, during their really got period, contribute another great, underrated tune in "I Go Blind". Like the last one, it has a kind of bouncy upbeat rhythm, perfect for the show, and this time period.

R.E.M. contributes an odd little tune, even for them, "It's a Free World Baby". A weirdly bouncy song that kind of pries it's way into the album. They definitely add to the already great credibility the set takes from the high level of performers on the album. They got a lot of acts at the height of their popularity, and that really goes a long way to making this not just a good soundtrack, but a fun sort of time capsule.

They do get some classic artists here, notably Joni Mitchell doing "Big Yellow Taxi", shortly before Counting Crows would get a hit out their cover version. It's a classic song, yet it fits right in here. Speaking of covers, The Pretenders kill it with their version of "Angel of the Morning", the sing was meant for Crissy Hynde's great vocals. It's been recorded numerous times, but this may be the best. Look Reed also works his way in here with "You'll Know You Were Loved", not his best, but really, even his misses are pretty good.

This is a good snapshot of mid-90's, sort of pre-hipster rock. Whether or not a television show really needs a soundtrack is besides the point; this is a good collection of music, with some hidden gems. It's not perfect, but it's a good blend of songs, if you like any of them, you'll probably enjoy most of the album. It does a better job than most of the Now This Is Music collections, worth a try if you wasn't too know what was going on musically in the mid-90's outside of grunge.