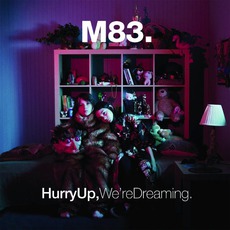 Hurry Up, We're Dreaming.
by M83
Tracks
People who bought this release also bought
Anthony Gonzalez has outdone himself this time. This is by far the best album from M83 and one of my favourite albums of both of 2011 if not all time. Hurry Up, we're Dreaming is a double album, something I haven't seen in a long time, this stems from Anthony's fascination with the double album. It works a treat though, from Intro to Outro every track feels so retro yet so incredibly distinct from anything I have heard before. This time around M83 worked on a few tracks with 'Morgan Kibby', an artist in her own right Morgan brings something else to the tracks that she worked on. 'Midnight City' and 'Reunion' have an emphatic stadium like feel to them even when your only listening to your iPod.
This is a must have for anyone who likes 80's or modern synth pop or even someone for looking for something a little bit different to listen to. Outstanding.
Pumped up, Epic, Anthem-filled, Retro-Synthesized. A few of the words that I could use in this review. But whichever words I decide to use and whichever order I decide to construct them in, I don't think I can do this album justice. Lets start from the top. It's a double album - daunting to say the least. Although its always great to have lots of songs from a great artist, whenever there are a lot of tracks on an album it leads me to think; why? WHY? It's happened in the past and those tracks simply become the ones that are skipped on your iPod, un-ticked in your iTunes and become a bit of an 'iHate to listen'. On this album though, it's just about worked. Anthony Gonzalez (the main man behind M83) has created a journey of incredible music. He's pushed his already 'far out' boundaries to new depths. From the very start you begin to see how the album unfolds, the second track is an incredible entrancing piece that captured me for hours, as I'm sure it will anyone else whose looking for great innovative music. We're going hear many a remix making it onto those late night radio shows and maybe soon calling you to the dance floor.
One of the best parts for myself personally is the fact that this record is made with real musicians, really playing instruments. No computers. Anthony said himself: "I feel like an old guy saying this, but nowadays everything is made in a bedroom on a computer... I need to go in a studio and work with musicians."
Its pure brilliance encapsulated within a few files that you can get right here, please please please buy it, you wont be disappointed!
FYI – Caprice have also lovingly another
M83 album
for sale, and it's a screamer!