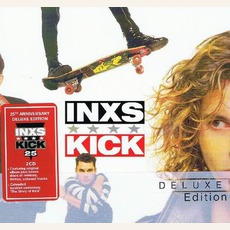 Kick (25th Anniversary Deluxe Edition)
by INXS
Tracks
People who bought this release also bought
Kick was the album that shot INXS into superstardom. They had a big hit with What You Need, but this album went six times platinum, producing four top ten hits, with album tracks that probably could have charted as well.

"Need You Tonight" would be the biggest hit here, being the only one to make number one. Michael Hutchence has a sultry voice that feels like it was created for this song. He has such a presence, the band often gets lost behind him. But the three Fariss brothers, Garry Gary Beers and Kirk Pengilly are a great combo, giving the music a sort of layered feel. One guitar stops, another of already playing; woven into everything is a saxophone that is masterfully placed, never overused.

"Never Tear Us Apart" is more of a ballad; "New Sensation" is your dance rocker of the group. My personal favorite has always been "Mystify", which, along with "Mediate" defies classification. These five singles are so different from each other, yet clearly are connected by the vocals and musicianship of INXS. "Mystify" is introduced by just fingers snapping and a simple keyboard riff; but as soon as Hutchence waves his hand, the rest of the band chimes in.

"Mediate" is more known for the video than the song itself. The video featured the band running through cue cards with the lyrics, single words that ended in "-ate". It was simple, yet unique, and therefore very eye grabbing.

The heaviest guitar riffs were saved for "Devil Inside". Again, this was simple, yet very distinct. You hear the first couple of chords, you know this song. This one takes a darker time than the rest, branching off into yet another area for the album, hard rock.

The songs that were not singles are excellent as well, and give the album, disparite in tone, a cohesion. My favorite is "The Loved One", but "Kick" and "Guns in the Sky" could also have gotten airplay, if the album hadn't already been so crowded.

The additional material in this addition is nice, but as is the case in most of these reissues, is more of a collector's piece than anything that will make your regular playlist. It's always interesting to hear demos and alternate mixes, but nothing comes close to the originals. There are a few new songs here that didn't make the album; nothing that deserved to make it, but an interesting listen nonetheless.

Overall, this is an amazing album, it should be in everyone's collection; not just the singles, the entire album. The bonus material may not be for you, but don't deny yourself the original album, it was a true piece of art.