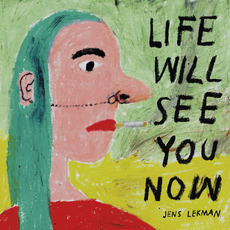 Tracks
People who bought this release also bought
Jens Lekman's latest release "Life Will See You Now" is arguably his best yet.
Kicking off with a gentle introduction, 'To Know Your Mission' is the albums opening track. The song then picks up the pace accompanied by Lekman's witty and interesting lyrics. It's catchy and vibrant and a bright start to the record.

'Evening Prayer' and 'Hotwire the Ferris Wheel' each contain very positive progressions and bright tempos, and again lyrics that draw the listener into the song. There is a slightly mellower vibe to the latter, but it maintains the warmth of the previous two tracks.

The following track 'What's that Perfume You Wear' opens with a funky bassline and once the song picks up the pace there is an interesting blend of Carribean style steel drums, percussion, strings and lyrics which leave you curious as to what the perfume he is eluding to actually smells like.

'Our First Fight' is a gentler melody and slightly, although not entirely, more melancholic. It's a pleasant track to say the least, but short and sweet.

'Wedding in Finstère' returns to the positive, bright uptempo feel the album commenced with. There is a combination of varying percussions, horns, acoustic guitar, synthesisers backing Lekman's catchy lines.

'How can I Tell him' has a slightly more sombre feel to it but the mandolin, strings and piano combine to create a beautiful backdrop to the tracks searching lyrics.

'Postcard #17' is a very mellow song, with just a simple piano melody over a clapping percussion sound which by now will have become very familiar to the listener. The song has quite a raw feel to it, but with some varying percussions and brass added towards the end, it eventually winds down to a sole piano which plays out the track.

The final track of the album 'Dandelion Seed' is a gentle track with a reasonably easy and bright feel to it. Lekman seems to include a wide variety of instruments in some of his tracks, adding a richness to them which perhaps he feels they would otherwise be lacking in. Listen out for the accordian in this one.
The song plays out with the lyrics "the wind is like a string section" backed by none other than a string section, and soon accompanied by the accordian.

It's a pleasant and fairly peaceful end to an album which, much like life itself, contains highs, lows and everything in between.