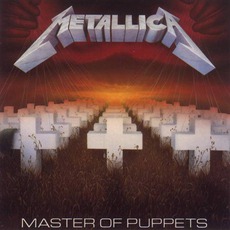 Tracks
People who bought this release also bought
Metallica's third album is perhaps the flagship album for heavy metal in general to the mainstream media. Even if such outsiders wouldn't know any better, that statement should not be taken lightly. The '80s were filled to the brim with amazing metal albums, popular and obscure, traditional and extreme. Even so, Master of Puppets to this day reigns supreme in the metal world, its merits usually challenged solely by veterans who are still bitter about the band's subsequent rise to acceptance (read: fall from grace). It is the last to feature Cliff Burton, who died tragically seven months later on tour. His influence on the band's direction is somewhat debatable, but considering the erratic stylistic shifts that Metallica would (and sorta continue to) pursue on all albums to follow, it's hard to argue that he was simply "the bassist".

So what exactly makes Master of Puppets stand so tall in the metal/music world? The fact of the matter is this: it's a very, very middle-of-the-road album. Gruff yet tuneful, James Hetfield's singing utilizes neither of two of metal's biggest turnoffs (or turnons) to newbies: high-pitched falsetto shrieks and guttural "death growls". Usually considered thrash metal, the album's only real fast songs come at the beginning and end; next to what was being done in thrash at the time, this is fairly tame stuff, especially to seasoned ears. The songs here are pretty long in general, but none of them reach the nine-minute mark, and as intricate as some of the riffs and timing may be on paper, they are all pulled off with nearly deceptive catchiness. Tellingly, the title track is the longest song here, but it is also the most popular. 1988's ...and Justice for All pushes these lengths and structures into progressive territory, but (almost) all excesses are kept on leash here. To top it all off, the production is spectacular, complete with chunky guitars, audible bass, booming drums, and clear vocals, making it all the more accessible.

Master of Puppets pulls off its tightrope walk between heaviness, melody, aggression, technicality, etc. extremely well, if not perfectly. No album up until this point (and fewer still in its wake) had melded seemingly everything that metal had accomplished in its not even 20 years of existence into a cohesive body of work. One samples the breadth of what metal has to offer over the course of this album, sometimes within a single song! You have thrash in the aforementioned "Battery" and "Damage Inc.", both of which are balanced by soft intros; the pseudo-doom romp of "The Thing That Should Not Be"; a slightly more typical mid-paced groover in "Leper Messiah", and total tours de force in "Master of Puppets" and "Disposable Heroes". All of the songs are bolstered by the shred-happy yet symphonically transcendent solos of Kirk Hammett and the ultra-tight rhythmic base of Lars Ulrich and the late Burton. The lyrics are a big unifying factor here, as most of them deal with powerlessness of some sort, but heavy metal has always been about finding strength in despair, so it functions as a cathartic listen, as well.

Fans make claims that it lacks the overall originality of 1984's Ride the Lightning (which indeed shares a strikingly similar track sequencing) or the breakneck exuberance of 1983's Kill 'Em All, but in terms of being Metallica's definitive statement as well as a microcosm of the diverse heavy metal spectrum, Master of Puppets remains unequaled. It may get old to longtime metalheads, but as far as gateway drugs into the genre are concerned, one really couldn't do much better. A watershed achievement.