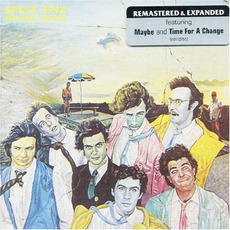 Tracks
People who bought this release also bought
Today, kiwi band Split Enz are primarily known for a string of New Wave hits in the early 1980s, such as 'I Got You' and 'History Never Repeats', and it often surprises people to learn that they began life as a progressive rock outfit. Even so, very few prog rock fans outside of New Zealand have actually heard their debut album, even though it (arguably) rivals the greatest works in the prog canon. The fact that it was only available in New Zealand and Australia probably has something to do with this, as does the timing of its release, coming in 1975 at the tail-end of the prog period - just when people were starting to get sick of odd time signatures and complex arrangements, and punk was just around the corner.

In the words of vocalist Tim Finn, 'There will never be another album like it', and although its musical influences are unmistakeable, as a listening experience Mental Notes is unique. Its songs oscillate between the Gothic and the ecstatic; the crisp and soaring vocals of Finn and the demonic warble of principal songwriter Phil Judd; the wild, Brufordesque drumming of Emelyn Crowther and pervasive keyboards and mellotrons of the south Pacific's answer to Emerson and Wakeman, Eddie Rayner. Time signatures seem to change at random, acoustic guitars duel with electric, and melodies weave through each other in often baffling arrangements. The album is intricately layered, with each fresh listen revealing some unheard melody or effect in the background. Not bad for a record made in three days on a shoestring budget.

The recording itself has been described as 'flawed' by the bandmembers themselves, although this 2006 remaster goes a long way towards correcting the muddy sound of the original. Too much reverb was one of the main complaints (personally, I couldn't imagine the songs without it!), and the fact that the performances failed to capture the intensity of the live shows. One issue that the remaster was unable to correct was the rather weak lead guitar sound, said to be caused by a disinterested sound engineer. Eddie Rayner has spoken in interviews of watching guitarist Wally Wilkinson 'sweating like a rock God', with a tiny 'plink plink' sound coming out in the control room.

If you're a fan of Yes, Genesis, King Crimson, Jethro Tull, Eno-era Roxy Music (guitarist Phil Manzanera actually produced their follow-up), Caravan, ELP, or any of the early 70s prog stalwarts, you owe it to yourself to give Mental Notes a listen. If you've never heard it before, you're really in for a treat.