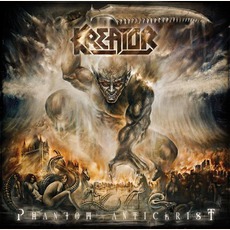 Phantom Antichrist (Limited Edition)
by Kreator
Tracks
People who bought this release also bought
Within the past decade or so, many second-tier thrash metal bands have released some of their best albums ever, oftentimes bettering their "classic" output from the '80s and early '90s. Kreator is perhaps the best example, as 'Phantom Antichrist' is their greatest album to date. This is not only the band's most memorable effort, but it's their most consistent; all of the songs stand out on their own, unlike any of their past albums. The production is their clearest ever but not in a polished way, so the heaviness remains entirely intact.

All of the Kreator staples are present: blinding tempos, furious vocals, and a crushing rhythm section. What's changed is that the band seemed to have added in some elements of power metal. Frontman Mille Petrozza sings in many sections instead of merely shouting. (The choruses of several songs sound like they came from a Blind guardian album.) As hard and fast as the riffs may be, they are more intricate and catchy than ever before. The use of dynamics is also a huge factor; acoustic sections pop up several times. Sami Yli-Sirniö's contributions cannot be understated; he is by far Kreator's best lead guitarist, adding his own distinct touch to every solo and harmony. The lyrics mostly remain standard fare: tyranny, corruption, etc. Even so, the lyrics to a few of the songs take a surprisingly more optimistic approach.

As has been the case with many Kreator albums, the title track is the most representative, if not the best song here. Ventor's drumming here is unreal, and the chorus is one of their most powerful. Songs like "From Flood into Fire" prove the band to be effective when not totally thrashing out. Still, their is plenty of pure thrash to be had here: "Civilisation Collapse" is perhaps the band's fastest song since the '80s.

While being their most radical departure since their experimental period during the '90s, Kreator have proven themselves once again as a force to be reckoned with. Heavy, beautiful, inspirational, and (maybe above all) epic: Kreator have kreated a true masterpiece with 'Phantom Antichrist'. Victory has come!