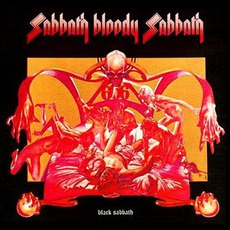 Tracks
People who bought this release also bought
Along with 'Sabotage', 'Sabbath Bloody Sabbath' is often forgotten in the wake of the first four landmark Black Sabbath albums. It is understandable in some regards. After all, Sabbath was a lot more experimental on this record compared to their almost purely heavy metal output up until this point. The album is chock full of lengthy, epic songs, making it less accessible to the casual listener. There are more acoustic passages than usual, and synthesizers and orchestral flourishes pop up a few times, as well. However, the majority of these experiments work quite well, so the diversity on 'Sabbath Bloody Sabbath' could appeal to many.

The opening title track remains one of, if not the heaviest song in the Black Sabbath canon. A crushing main riff alternates with an acoustic part, and Ozzy gives one of his best vocal performances ever in a brutal bridge section. "A National Acrobat" includes some psychedelic verses before ending with a few riffs that sound a little bit like the Grateful Dead. "Fluff" is Tony Iommi's most memorable and outright beautiful acoustic piece ever, surpassing all of his past and future excursions. "Sabbra Cadabra" actually sounds more like Led Zeppelin than it does Sabbath, especially in its lyrical content and experimental, piano-led parts. "Killing Yourself to Live" is actually a suite comprised of three different songs, and it returns to the band's recurring lyrical theme of drug addiction. The one failed experiment on the record is the boring, cliche, synth-heavy "Who Are You?", which is perhaps the worst song to come out of Sabbath's original classic period. "Spiral Architect" is actually one of the band's most optimistic songs both musically and lyrically, featuring sweeping orchestration. The more straight-forward "Looking for Today" closes the CD, but its position was switched with the previous song on the original version. It doesn't really do anything to the flow of the album as a whole, though.

'Sabbath Bloody Sabbath' may be the hardest Sabbath record to get into. It is filled with multifaceted songs and lots of experimentation, and it features their first truly bad song. With patience, however, it becomes apparent that the band's willingness to branch out didn't hurt their ability to make some of the finest and most original hard rock and heavy metal out there. It may not be the best introduction to the band, but it is absolutely essential for Sabbath fans.