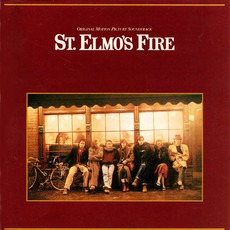 St. Elmo's Fire
by
Various Artists
Tracks
1.
St. Elmo's Fire (Man in Motion)by

John Parr
4:12
2.
Shake Downby

Billy Squier
4:08
3.
Young and Innocentby

Elefante
4:41
4.
This Time It Was Really Rightby

Jon Anderson
4:41
5.
Saved My Lifeby

Fee Waybill
3:47
6.
Love Theme From St. Elmo's Fire (Instrumental)by

David Foster
3:32
7.
If I Turn You Awayby

Vikki Moss
4:38
8.
Stressed Out (Close to the Edge)by

Airplay
4:19
9.
Georgetownby

David Foster
1:37
10.
Love Theme From St. Elmo's Fire (For Just a Moment)by

Donny Gerrard & Amy Holland
3:46
People who bought this release also bought
Many have watched the movie "St Elmo's Fire" and loved it. For them, this album will be a welcome walk down memory lane. For me, I heard the music first, and then decided to watch the movie.
John Parr's song, "St Elmo's Fire: Man in Motion" is an excellent, upbeat 80s rock/pop song that is played a lot on the radio, but it is hard to find online. The song itself is worth the price of admission.
That said, David Foster's uniquely soothing piano/synthesizer music is relaxing and not boring (many relaxing songs are boring). It makes one feel like walking in New England or in some old, historic town on a brisk autumn day. Very good stuff.