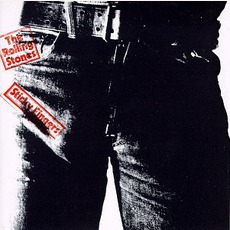 Tracks
Also by The Rolling Stones
People who bought this release also bought
"Sticky Fingers" is The Rolling Stone's 11th album and is quite possibly one of their best works. New lead guitarist Mick Taylor fits perfectly and is displayed in the album's bluesy, laid-back tone. Key tracks include "Brown Sugar", "Wild Horses", "Can't You Hear Me Knocking", "B***h", "Dead Flowers", and "Moonlight Mile".
This classic starts with Brown Sugar, possibly the greatest opening track in rock's history.
Astonishingly, the standard does not drop.
It's bluesy, it's soulful and it climaxes with Moonlight Mile- in the all-time top 10 of Stones' tracks.
In My oppinion Sticky Fingers is the best studio album that the stones released. A little less country/free feel honky-tonk than the two previous. if i could only have one album of theirs, this would be it! Also a great primer if this is your first