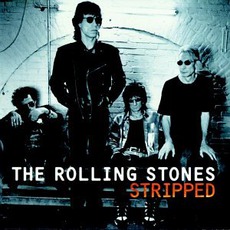 Tracks
Also by The Rolling Stones
People who bought this release also bought
The Rolling Stones have put out lots of live albums. But this one caught my attention, because it was a bit different. It comes from a club atmosphere, instead of the normal 50,000 fans in a stadium that they usually play. It was recorded in several small venues across Europe, with some studio tracks, with no overdubs. It's an entirely acoustic album, and wound up being their most popular album in over a decade.

This also produced their first recording of Bob Dylan's "Like A Rolling Stone", from where they got their name. They do a great job with the song, the crowd is totally into everything they do, and they are more than happy to join in on the chorus. It was released as a single, and charted well in Britain.

This atmosphere allows them to give different takes on some songs, arrangements that maybe wouldn't work in their usual setting. "Angie" gets a very subdued performance, Mick Jagger even whispers at times. It's a refreshing performance of a song that was already great.

"Dead Flowers" is another unusual track for the band. They go with a country feel on this, and it works better than it might seem. This is, of course, one of the greatest rock bands of all time, they are very talented, and more versatile than maybe they get credit for.

The opening song is one of their big hits, "Street Fighting Man". This one just flat out rocks, it doesn't matter where they play it, that always kill it on this song.

But the focus isn't on their hits, it's on the tunes that do better in this intimate setting. "Slipping Away" gets a very unique performance from the group, a very emotional rendition. "Wild Horses" returns to that sort of country vibe, which several of the songs in this set seem to reflect.

"Like A Rolling Stone" was not the only cover in the set. They break out Buddy Holly's "Not Fade Away", to great effect, it's an excellent version of the classic. They hit the blues, doing Robert Johnson's "Love In Vain", and Willie Dixon's "Little Baby". This is a natural fit, as much of their music, much of rock in general, came from the blues.

It's easy to forget that Jagger, Richards, drummer Charlie Watts and guitarist Ronnie Wood are all talented musicians, since at this stage in their careers, they can phone in a selection of their hits and get a great reaction from it. By this unique album shows their talent better than most of their live albums, and it gives fans a refreshing view of some excellent tunes. If you've looked any of their stuff, even if you have become disenchanted with the band, this is an excellent album to get. It really strips down the band and makes them show you what they can do.