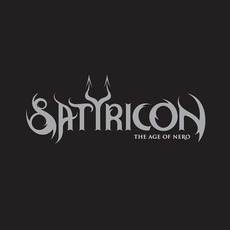 The Age Of Nero (Limited Edition)
by Satyricon
Tracks
People who bought this release also bought
The Age of Nero is another brilliant album of Satyricon, black-metallers from Norway. First thing that needs to be mentioned writing about The Age of Nero is that this release is very different from their earlier works from the 90s, especially Dark Medieval Times, The Shadowthrone and Nemesis Divina. Most orthodox fans will tell you this album is garbage and that Satyricon have started to create a mediocre music. This, in my opinion this is not so true. The Age of Nero may be much more simpler and more melodical then other releases, but it actually adds something new into their music. I would call the style Black 'n Roll as in this record there are some elements of both black metal and rock music. The songs are catchy and memorable and I started to like it on the first listening, which mostly doesn't happen to me when talking about metal music.

This Limited Edition of The Age of Nero consists of two discs and the band as always is represented by Saryr on vocals and guitars, and Frost on drums. As Satyricon is only a 2-men band, there are few additional persons that helped them to record this release like Snorre Ruch on guitars, Windhfyr on keyboards and choir and Victor Brandt on bass guitar. The lyrics are composed by Satyr and they are as usually all about power, hate and death. They are nothing special and original (some would even say they are generic), but they fit to this music genre nicely. I personally think the lyrics are the weakest part of this album.

Some songs that need to be mentioned are Commando, Black Crow on a Tombstone, My Skin is Cold. All songs are solid and are the best for headbanging. The production quality is awesome and has greatly improved from their previous releases. The second, additional disc contains 8 additional songs, that are mostly live and mixed versions of the songs from the first disc, but there are also some rare pieces like Mother North (live) and The Pentagram Burns (radio edit).

The Age of Nero is a solid album and for an open-minded listener it has loads of things to offer. If you are one of those "true" black metal fans that worship Satan and you hate slow technical metal and actual melodies and rhythms, you should stick with earlier Satyricon works or probably with some other bands. I myself am happy that there are still some black metal bands that don't care about profits and popularity and enjoy making brand new stuff and are actually evolving, one of them for sure are Satyr with Frost and their Satyricon.