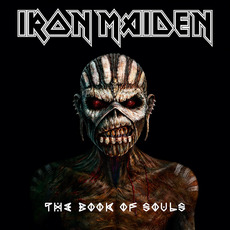 Tracks
People who bought this release also bought
Iron Maiden releases another great album! Five years after The Final Frontier was released, they release a double album, which is two CD's and an hour and a half long. With it only being 11 tracks, it is WELL WORTH THE MONEY! A majority of the songs are over 10 minutes, but there will be the ones that aren't and they still are awesome songs. Bruce Dickinson's voice was amazing and it still his. He can still sing like he used to and is still able to hold the long, high notes. Adrian Smith, Dave Murray, and Janick Gers are three guitarists that know how to create a song that has a great riff and three solos that harmonize with each other. Nicko McBrain's drumming is as always was, but still knows how to slow and speed up a song at the right moment. And last but not least....Steve Harris's unbelievable song writing skills help hit after hit for the band and knows what type of melody will go great with specific lyrics. In the end, this is one of the best line-ups/combos for a Heavy Metal band. Overall, this album is another hit and should have gone #1, but didn't. This is a must buy for any Maiden fan and anybody that is a fan of melodic metal that has a short story to every song. BUY THIS ALBUM, IT IS A MASTERPIECE!
A double length album from one of metal's finest acts! Being a fan of The Final Frontier, I was really excited for what was coming next. The Book of Souls did not disappoint! Disc 1 standout tracks Speed of Light and the +13 minute epic The Red and The Black would be worth admission alone. Disc 2's The Empire of the Clouds may just be one of the finest songs they have ever written, and clocks close to 20 minutes! Iron Maiden never fails to release awesome metal, and this is no exception.
The Book of Souls arrives a full five years after its predecessor, Iron Maiden's longest gap between albums. Almost as if to make up for lost time, this is the first double album of the band's career, containing over an hour and a half of music spread out over 11 tracks. Kevin Shirley's production is, once again, rather claustrophobic. Even so, Maiden wrote much of this material in the studio, giving The Book of Souls a much more immediate, lively feel than what fans have grown accustomed to lately. Between the return of their vintage logo font and the kitschy artwork, this is the closest the band has come to invoking their classic sound and style in the new millennium.

"If Eternity Should Fail" was originally intended to be a Bruce Dickinson solo track; it's a gloomy rocker with a triumphant chorus. In spite of a superfluous spoken outro (bizarrely reminiscent of Iced Earth's "Damien"), this is Iron Maiden's best opening track in quite some time. "Speed of Light" is actually one of Maiden's top singles of their reunion era, with a delightfully catchy chorus that recalls their glory days more than anything else here. These first two tracks alone, in fact, represent the best combination of the band's older attributes with their newer ones to date.

Unfortunately, Maiden do not follow this path for the rest of the album's duration. "The Red and the Black" tries to recall past epics like "Rime of the Ancient Mariner". Sadly, it falls flat in nearly every aspect. Filled with generic, "whoa-oh" chants and keeping the same tempo throughout, it grows tiresome quickly and does not justify its 13-and-a-half-minute run-time by any stretch. The title track, based on the Maya, is among the better tracks on the first disc, similar in its bombast and scope to the likes of "Powerslave". The chorus soars, and the mid-section contains some of the album's heaviest riffs. "Death or Glory" is another single-ready collaboration between Bruce Dickinson and Adrian Smith, revisiting the theme of aerial warfare. "Tears of a Clown" is a pseudo-ballad that was actually inspired by Robin Williams's suicide; while a bit unorthodox, it is at least a nice, somber change of pace. "The Man of Sorrows" is cumbersome overall, and it continues the unfortunate trend of ripping off song titles from Bruce Dickinson's solo work, this time even more blatantly than "The Alchemist" on The Final Frontier.

"Empire of the Clouds" was a major talking point of the album before its release, for it is now easily the longest song in Iron Maiden's entire oeuvre at 18 minutes. While it contains some legitimately captivating riffs and interesting transitions, the piano parts by Dickinson are a little off-putting, reminding one of "Black" by Pearl Jam, and the ending could stand to be a little more powerful. Still, it holds your attention, which cannot be said for many of the lengthier tracks here.

The Book of Souls shows a lot of potential, but much of it is squandered on the band's insistence on filling the tracklist with so-called "epics". Fans will claim that the band have simply become more "progressive", but in truth, the repetitive riffs and lack of tempo changes in these longer songs strikes down that claim. Maiden are not really getting proggy; they're just writing longer songs without the factors that typically make longer songs worthwhile. Had they cut this down to a single album at a (still lengthy) eight tracks, The Book of Souls would fare much better, maybe even as their best effort since their heyday. As it is, it's okay, but frustratingly so.
Quick disclaimer: I am a huge Iron Maiden fan. If we go back to the Final Frontier, the boys decided to go a little proggy. Still very good but a little harder to listen to. Fewer hooks and more of an atmospheric tone.

My favorite Iron Maiden period is the middle years with CD's like Piece of Mind and PowerSlave. I am very happy to say that Book of Souls fits in to that time period. Instead of branching out on their sound, the boys decided to turn up the guitars and let it fly. There are more solos, more hooks and the energy is amazing. Don't let the longer songs turn you off. They have enough changes and energy to pull them off.

2 Cd's can sometimes get long and tiresome but Book of Souls is an instant classic.