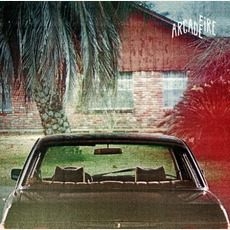 Tracks
People who bought this release also bought
Recently, I've come to appreciate how good this album is. I had to sit down and listen to it from start to finish in one sitting in order to get the artic tic vision that was driving the album. I love that the whole album is one singular story and you really get set drawn into it when you hear the while album in order.

I do love the instrumentation and mixing on this album. It's very ethereal and larger than life. Which fits thes the story of the lyrics so well. I also like the use of orchestrated strings on alot of the tracks which really adds depth and drama to the instruentals. I also love the use of very dry reverb on alot of the tracks. It gives the feeling of being full and yet hollow at the same time. And that is relevant because the album stems from themes of war and violence and the the aftermath that followed. In thw story things will never be the same and that alone is enough to justify the hollow feeling.

The album and the story also focus alot on "the kids" which is interesting because this probably represent thier fan base as well as people in general who have to face adulthood and grow and mature past thier current state of life. And it's interesting because most modern rock does not tackle the topic of maturity. But what is compelling here is that they talk about maturity, life, death, and war as well as the social implications that there present. And the album beautifully balances this tension with a flicker of hope that never dies. This album never gets so dark that if feels like there isn't any hope in it. And that is profound because it shows great songwriting but also real purpose behind the album and the story.

This album also walks the line between dreampop and alternative rock seamlessly. There are also hints of some 80's pop influences. This brings to mind groups like Beach House, the Cars, the Smiths, and the War on drugs just to name a few. To me this is one of those albums that will be remebered years from now and may be even more relavent than even in the not so distant future.
Sometimes there's a cd that just seems to get you in. It took a couple of listens but this would have to be one of the best albums in recent years and it did deserve to win a grammy award. The music, the songs are very engaging. Is Just a pleasure to listen to. Try it out, in the end you won't be dissappointed.
This album is amazing. One of my all time favorites. There is litterally not one song on this album i don't love. And i mean love, because i love every one of them. They have always kept a consistent work with their albums, which to me have become more and more ambitious for each time. Not that their debut for example was bad because it wasn't at all. I see the first album as the most straightforward album, the second where they experiments more with classical music such as strings. This album, the third from combines each of these "themes" in this unique album. This is also why this is my favorite album from them. Now they are releasing their fourth album in October, where they have been even more experimental along with collaborating with the previous LCD Soundsystem lead singer, James Murphy. And i think he really can take this band into an way more interesting way than before.
The Suburbs is the third album from Montreal's Arcade Fire - my favorite modern band. This album, while it is the least of the three, is still more passionate, creative, and artistic than most of the music available today.

Win Butler (lead singer) writes songs about rebellion, childhood, growing up, fantasy, loneliness, nostalgia, and the human condition. Though these talents are perhaps on most spectacular display in their Funeral album, his style and creativity are alive and well on this album, too.

The title track, "The Suburbs", is a song with a beat that chugs along cheerfully like your mother's old 1980's station wagon. On that background of nostalgia, Win Butler paints a vocal picture of memories about growing up in the suburbs - an idyllic and desperate experience all at the same time.

Ready to Start, which competes with Sprawl II for the album's best track, is the track that is most like the Arcade Fire sound that fans are used to from previous albums. It has a driving, make-you-want-to-dance beat with creative guitar work in the beginning that, after a few bars contains a auditory illusion of a rhythm change.

Empty Room starts with violin work that is reminiscent of Vivaldi's Spring, but it is quickly joined by drums and guitars that drive it into an upbeat duet with Regine (Win's wife) and Win - one song where both of their voices are almost equally noticeable, rather than featuring one over the other. Regine's voice can often be a little shrill, but on this track, it fits perfectly.

City with No Children begins with Win speaking to and old childhood girlfriend, then reminiscing about where he came from compared to where he is now.

Sprawl II (Mountains Beyond Mountains) takes the island sound of Haiti (from the album Funeral) and adds some synth into the mix. The result is a sound palate that is similar to MGMT. The song features Regine as the lead singer, and though her voice on this track isn't the best, it does fit the song well.

Overall, The Suburbs is an album from a great band, and so can be nothing less than great. But if you're new to Arcade Fire, don't stop with this album - check out Neon Bible and Funeral, too - those are Arcade Fire's real masterpieces.


This is a great band who had a breakout year. Their songs are original and well-written, and you can tell they are down to earth and genuinely care about the world. The lyrics for their songs are interesting and meaningful, and often show you new perspectives. This band is great, my only complaint would be that some of their songs sound quite similar and their music often isn't too catchy - which is both good and bad.
The AF have always worn their hearts on their sleeves. Whether writing about the departed, deception, or regret, their earlier songwriting comes across as illuminating, honest, and redemptive. The songs on the Suburbs strike similarities, yet belie a greater confidence, possibly peace, with the way things are. Indeed, their live appearances feel less fueled by the need to plant a flag, than raising their art to the next level. An industry benchmark, a Grammy for Best Album, gave some their first insight into the upward trajectory of this band, but in truth it was always there.