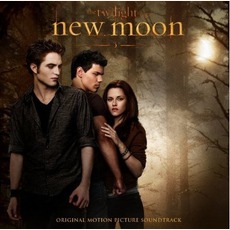 The Twilight Saga: New Moon
by

Various Artists
Tracks
People who bought this release also bought
I'll admit it - I don't like Twilight. In fact, I mostly hate it. But I have one good thing to say about the series - the musical director, Alexandra Patsavas, is a genius. She manages to pick the perfect music in every project she works on - so perfect are her picks that people associate the emotions of a scene with the music. For this reason, she has made many indie bands successful.

Outside of people who already listened to indie music, few had heard of Bon Iver, Sea Wolf, or Grizzly Bear before Ms. Patsavas chose them for this soundtrack.

Her musical choices make the movie worth watching. I can almost forget that Kristen Stewart never breathes with her mouth closed when I hear Thom Yorke's eerie track, "Hearing Damage" as some vampire or other runs through the Pacific Northwest forest.

And "Rosyln" (yes, it's spelled that way) makes me actually sympathize with the whiny, mopey, boring Bella Swan.

Even more impressive, Band of Skull's track, "Friends," almost makes one scene in the movie cheerful. Unfortunately, Bella quickly ruins the cheer with her psychologically unhealthy need to hallucinate Edward Cullen. But hey, the magic of music can't be asked to completely compensate for Twilight, can it?
Great album full of well written original songs. Usually I'm not a big fan of movie sound tracks, but this one is amazing. The group of artists that they got to write custom songs just for this movie is absolutely shocking - and they all wrote great songs. Along with checking out this album, you should check Lykke li, Band of Skulls, and Bon Iver - who all wrote a song for this album. My favourite songs are friends, meet me on the equinox, and satellite hearts.