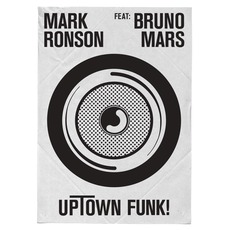 Tracks
People who bought this release also bought
True to Bruno Mars, this single is full of his favorite sounds from the old days that he loves to pull from. Both Mars and Mark Ronson, the producer, do well to create a vibe of lyrics and old fashion partying. Memories can and will always be made with this song, full of memorable sounds (Such as the low 'Dum' that starts the song.), and the voice of Mars to get everyone moving. Even if you have never heard the song, you will recognize it immediately, and will be able to dance right along instantly. The songs truly is for the party people in the world who could care how crazy they look from the car window.
I never heard of Mark Ronson until this song!! This song has a 70's funk style that I really like.It is reminiscent of James Brown and the Tyme. Bruno Mars is also a great artist and I've loved his music since he did vocals with Travie McCoy.

Mark Ronson is from the U.K. and has won The Brit Awards for Best British Male Solo Artist in 2008, but was virtually unknown in the U.S., until now!! I would like to hear more from him.
LOVE Uptown Funk!! Shame we can't get the videos to go with the tracks we buy on here as that's what really sold this one to me. Bruno is the one that nailed it but we should all take our hats off to Mark Ronson for this fun & funky song. Never heard of him before but will be keeping an ear out for more from Ronson if Uptown Funk's anything to go by.