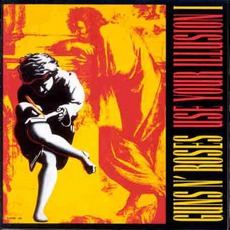 Tracks
People who bought this release also bought
The Use Your Illusion era of GNR saw them move away from the raw, intoxicated hard rock of Appetite and into a more matured, thoughtful and 'serious' line of music. The double Illusion album is the product of this.

Use Your Illusion 1 is brilliant. Lets not mess about here, regardless if you like the direction they took or not, it has some seriously good music on it.

Right Next Door to Hell and Dust N Bones have anger and swagger and attitude and definitely call back to their earlier releases.

Live & Let Die saw Guns dip their toe in a cover's playpool which proved hit-and-miss across the years. This is actually quite a good take on the original, with plenty of attitude.

Dont Cry (both this version and the alternative lyrics version on UYI II) are ballads and, whilst still good song, lack the testicular fortitude of the rest of the album.

Perfect Crime sees a return to the dangerous element of Guns and is a well rounded, fast paced slab of hard, hard rock.

You aint the First is a slow paced acoustic track with a country feel to it, and somehow maintains the vibe through vicious lyrics. Quite funny too.

Bad Obsession and Back Off Bitch bring more aggression (with cowbells) and rock along with that solid-paced feel that this release revells in.

Double Talkin Jive is stripped down and basic, headknocking and hard, and plays out to a stunning guitar finish.

November Rain is an album on its own... a long, sweeping, elclectic song and one of GNRs finest, even if it lives in Ballad Street. Im sure you are already familiar with this so we'll move on.

Skip over tracks 11 and 12 and move STRAIGHT to one of the crowning jewels in Dont Damn Me. Axl's vessle to spit venom at those in the media, to a perfect rock track.

Again, skip tracks 14 and 15 and onto Coma. The masterful end-piece and this is a song which moves seamlessly through every gear, delivers haunting melody, vicious rock riffs, breaks, epic solos, odd samples... everything GNR do, and done damn well.

For me, this feels more of an album that UYI II does. An excellent one at that, too, with only a few filler tracks from 16.