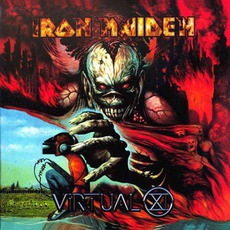 Tracks
People who bought this release also bought
First off let me start by saying I am a huge fan of Iron Maiden as I have been for a solid year now and have heard all of there albums and have to say that this one is actually good. I've read some bad reviews giving this album a bad look but actually it is easy,for me at least,to say it could be considered a bad album when you listen to the albums "The Number of The Beast" and "Powerslave" as your introduction to Iron Maiden and then hear this album right after that. In all honesty though, I personally think "Virtual 11" is better than "The X Factor" (Another album not very liked by many Iron Maiden Fans). It sounds more like Iron Maiden (and also "The X Factor is actually kinda good,but, the sound they were going for just did not do them well at all in my opinion)

The first song on the album, "Futureal" is a really nice opening song that is nice,short, and snappy. It is not a complicated song.It's just a very cool and a very solid song.I have to give this song a nice 10/10

The second song called "Angel And The Gambler" (Which happens to be the only single for this album) Is a really good one too. Not The best one on here,but it is still a really good song.

It is different though which is a good thing so i will give the song a 7/10

The third song "Lightning Strikes Twice" I can actually say is one of the best songs on this album.I think it is a very catchy and also a cool song. It starts of with an intro that sounds like it is a full of sorrow type of an intro but soon it will get heavy.I will give this song a nice 10/10

The fourth song "The Clansman",Is an amazing song and I will give this one a nice 10/10 as well.

"When Two Worlds Collide",Which Is the fifth song on the album, is another good one. The way it starts out is actually very similiar sounding to the way "Light Strikes Twice" starts out.Then goes on into the famous galloping riffs of the guitar. I will give this one a nice 7/10

Then the sixth song on this album,which is called "The Educated Fool" Is In my opinion the best song on the album. I actually just can't say anything more other than it is a very catchy song. I just can't explain it,the lyrics and the music and just everything about the song struck a chord with me. I give this song 11/10.

The seventh song on this album is called "Don't Look To The Eyes Of A Stranger" Is A Good song. Sadly,it actually isn't my favourite song on here but it is still a good song though. I will give it a solid 6.5/10

Then the last song,number eight on the album,"Como Estais Amigo", is the song the song that finishes the album off and it is a track which opens with yet another very "sorrow filled" type of melody,but as usual,the distorting sound of the song will come comes in.I give this song a 8/10 though.

So all in all this is a good album. Not one to start you off to get into Iron Maiden,but still it is a good one. Ignore the haters that dislike this album. I would say to actually give this album a chance at least and don't ignore it because of a few bad reviews. Love this band,Like this album,I give this one a good 4 stars.