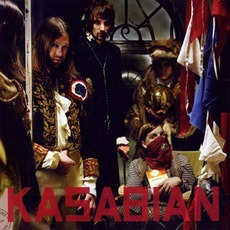 West Ryder Pauper Lunatic Asylum
by Kasabian
Tracks
People who bought this release also bought
British rock music has captured my interest of late, and now I'm turning attention to Kasabian. "West Ryder Pauper Lunatic Asylum" is the band's third studio album, and all songs are written by lead guitarist/occasional vocalist Sergio Pizzorno. The album was titled after a 19th century asylum, one of the first such for the poor. The cover depicts the bandmembers dressing up for a costume party at the asylum, and each track is supposed to represent a different inmate. Ranging from catchy, eerie, to great 1960's-style hooks that you just gotta sing along to, I'm in love with this album.

Get your blood pumping with the first track, "Underdog". Lots of attitude and a tough but catchy beat. "Kill me if you dare, hold my head up everywhere; keep myself right on this train." Love the crescendoing bit that leads up to one more strong chorus at about 3:10 into the track.

Pounding backbeat from the beginning of "Where Did All the Love Go?" and then a chorus that could belong to a '60s anti-crime/protest song. Makes me want to clap my hands along with it. And then there's a bit with an almost Eastern flair - more of this to come later on the album. "Where Did All the Love Go" transitions smoothly into "Swarfiga", an instrumental. I'm not sure how to describe it but don't skip it, the track is fairly short at 2:18 but crucial to the album.

"Fast Fuse" - I love that Tom Meighan has dedicated this at concerts to Liam Gallagher. Very apt. Songwriter Sergio Pizzorno has described the song as 'dirty garage rock'. Tom's vicious rendition does the lyrics proper justice: tough, attitude-filled, fast and very catchy.

"Take Aim" starts off slow with a rather odd rhythm but builds into an awesome chorus. Sergio does lead vocals here. "Thick as Thieves" is slower and kind of meandering in a good way. But it's got sufficient suspense and eeriness, crescendoing into a perfect fit for "West Ryder". "I gave you all your scars, but you gave me mine." LOVE that lyric...

There will be emus in the zone. WHAT?? Part of Rosario Dawson's opening monologue to "West Ryder Silver Bullet". This is a weird track, Rosario Dawson duets with Tom Meighan, I guess it represents the maniac in West Ryder's basement! "Vlad the Impaler" scares me, lol, I do like parts of it but generally skip this track. However, I ♥ love Heath Ledger. :) and I ♥ "The Dark Knight". :) So I appreciate the Joker line in the song and how Tom has dedicated it to Heath.

"All the TVs hypnotize, all the loonies on the rise"...tonight, "Ladies and Gentleman, I Roll the Dice". That first line is one of my favorites from the whole album lol. This track is probably the most relaxed on "West Ryder" but powerful nonetheless. "Secret Alphabets" brings that Eastern flair to the full. For some reason I don't listen to this track very often, maybe it'll grow on me.

"FIRE"! I'm on "FIRE"! Yeah, this is my favorite track here. It was the first one I heard from "West Ryder" and totally sparked my interest in the album. If it's playing you can bet I'll be singing along, or at least lip synching and bobbing my head lol. It starts out kind of slow and building and then literally bursts out into one of the best choruses ever. I'm listening to it now and had to click the volume up a few notches for this [art. If you don't get the album, at least try this song.

"Happiness" - Is that a full-fledged gospel choir on backing vocals?? You bet. This last track highlights the unpredictability of the album. A surprisingly pleasant, inspiring tune that kinda takes you to your "happy place" and leaves you with fond memories of the West Ryder Lunatic Asylum. :)

At present "West Ryder Pauper Lunatic Asylum" is the only Kasabian album I've listened to all the way through, but I was hooked from the first track and look forward to discovering more great music from them. It keeps up a great retro style yet always with a modern edge, never feels stale. Five stars all the way.
The idea of this album is to be the soundtrack to an imaginary movie undoubtedly taking place at the 19th century West Yorkshire facility that gave the album its name. This is a great album, which will be loved for many months to come.