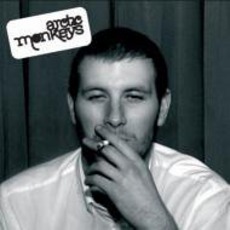 Tracks
People who bought this release also bought
The debut album by Arctic Monkeys was award winning and hugely successful. The new Sheffield rock group pulled an outstanding album out of the bag and created a huge cult of followers, leaving them as one of the most successful current bands in Britain.

Opening with 'A View From The Afternoon', the album opens with a fast pace, guitar driven song that begins the streets of Sheffield theme that is boasted by the praised lyrics of Alex Turner.

Following on, indie classic "I Bet That You Look Good on the Dancefloor' is an exciting and intricate piece that is one of the Monkeys' most famous singles. Other key hits from WPSIATWIN include 'Dancing Shoes' and 'When the Sun Goes Down', the latter being an incredibly well written piece that describes the struggles of a prostitute out on the streets.

The album includes other popular, but calmer songs such as 'Fake Tales of San Francisco', 'Mardy Bum' and 'Red Lights Indicate Doors are Secured'. They fit perfectly into the progression of the album which moves slightly away from its fast pace - hard rocking opening.

The album ends on 'Certain Romance' which combines every element of the album to create the perfect outro - ranked by NME as the Best Last Song on an album, proving the lyrical genius of Alex Turner prevails in this outstanding album - well worth any amount of money.