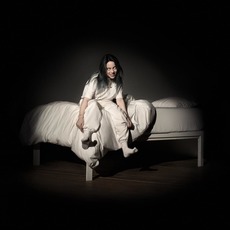 Tracks
People who bought this release also bought
One can almost sense a smaller army of elderly or outsiders looking at the hysteria around this young teen world star and wondering: What does the phenomenon Billie Eilish mean?

In other words, there is much expectation, many questions and really much hype in the air around the Californian singer. But her debut album, fortunately, seems to have emerged in a separate universe, beyond the media storm and the many peoples (15 million on Instagram alone) who follow her on social media. "When We All Fall Asleep, Where Do We Go?" Is a closed world created by exactly the things that made Billie Eilish so fascinating at first.

The album is written, produced and recorded by Eilish himself and her four-year-old brother Finneas. So there are no guest artists or influence from the outside. It feels like a closed room into which you enter. Sometimes, Eilish draws almost the weather directly into the microphone. For a status as one of the year's perhaps most hyped albums, it is quite radical. So: Not even today's most independent pop stars make albums like this. Can you imagine Justin Bieber or Ariana Grande making their next release in the loft with their big brother?

The result is an album that follows Billie Eilish's whims and eccentric whim to the fullest. But who, at the same time, wears his role models to behold quite clearly. For example, the vocals of the songs are still whispering as in the early Lana Del Rey, and the songs have some of the dramatic quality we know from Lorde. But in addition, Billie Eilish also has just a little bit of a bunch-like (and perhaps a bit of Avril Lavigne-inspired) over her, placing her in a completely different category. She is a California teenager with hip hop style, surfer snake and a good deal of skater attitude.
There is often an element of masquerade over the songs. But midway through the album, it feels as if she is playing with the listener: At "8" Eilish sings with helium voices over a ukulele, while the vibrant genius "My Strange Addiction" spices up with dialogue samples from "The Office". "Ilomilo" is teasing and searching at the same time - "the worlds little blur" or "it s my eyes", sings Eilish and sounds like she is trying to find a dream that has already slipped into oblivion.

But while Billie Eilish can both be scary and teasing, parts of her debut album are actually very quiet. For the ballads, a completely different private quality has. They peel away everything instead of building up. The masks are put away.

The single 'When the Party's Over' is, for example, an irresistibly beautiful and vulnerable piano ballad, and the album ends with three songs ('Listen Before I Go', 'I Love You' and 'Goodbye'), which are just as simple, open and sad , as their titles suggest. The roleplay is over and there is no longer anything to hide behind.