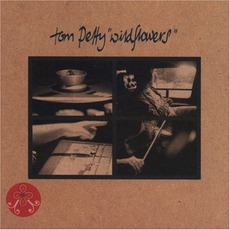 Tracks
People who bought this release also bought
"Wildflowers" is Tom Petty's second solo album, the follow-up to the huge hit "Full Moon Fever" album. Though it is a solo album, it features performances by all members of the Heartbreakers, except drummer Stan Lynch. Lynch had become increasingly unhappy with Petty's solo work, and felt working his songs into Heartbreaker's shows made them into a cover band. The drummer for Wildflowers was Steve Ferrone, who would become the drummer to officially replace Lynch in the Heartbreakers in 1994, the same year this album was released.

Most fans won't notice much of a difference between Petty's solo work and Heartbreakers albums. Petty's trademark vocals are present, as are his southern blues tendencies. The biggest hit from the album was "You Don't Know How It Feels", featuring a steady fun beat throughout the sing, highlighted mostly by harmonica, with splashes of keyboard and guitar. Also getting some tsp time was "It's Good to be King", another slower tempo song, this time with an almost somber time in juxtaposition with the song's title and lyrics.

Petty always shines best on songs that move, and there are two great examples here. The first is "You Wreck Me", a strong rocker. Petty's guitar pours in tons of energy on this track, it's one of his best pure rock songs ever. The second is "A Higher Place". This is more of a love song, with imagery of an impending flood; some of Petty's best lyrics are here: "I remember walking with her in town, her hair was in the wind/I gave her my best kiss, she gave it back again ". The arrangement is a bit different here, very much more layered than most of the album.

Petty likes the mournful love songs, and he has a great one here in "Crawling Back to You". This one gets soft, building down to Petty singing with very little instrumentation, then the whole band comes back in. Rick Rubin produced the album, and he does a great job with juggling the instruments, finding just the right mix at the right time over Petty's melody.

This is an excellent follow-up to "Full Moon Fever". It's not a sequel, it had it's own sound and feel. It's more Heartbreakers and less Traveling Wilburys, but this is a good progression. This was a very well received album, and for good reason. There may not be the runaway single hit here, but there is no dud on the album either; the album in its entirety is an excellent listen.